Bookstore
Need to buy books or supplies? Sell your books?
You can do it all at the Florida SouthWestern State College Bookstore!
Select your campus bookstore below:
Online books can be ordered from any of the above links
---
Current News
Purchases with Financial Aid:
The option to purchase your textbooks and course materials in store and online through the Florida SouthWestern State College Bookstore using excess Financial Aid funds will be available on the following dates:

Spring (Full/A) Term
12/22/2014 - 1/13/2015

Spring B Term
03/02/2015 - 03/13/2015
For Online Purchases:
Once you have selected the materials you would like to purchase through your campus bookstore website, you will proceed to 'Checkout' and follow these simple instructions:
Payment Method: Select Buc Card from the dropdown menu options
Enter your student ID (NO '@' symbol – numbers only)
Proceed to complete transaction
Sustainable Shopping
Follett has set a goal to reduce our in-store shopping bag consumption by more than 50 percent this fiscal year. This fall alone, our network of more than 900 stores will prevent 3.5 million bags from entering our landfills and waterways. To achieve this goal our campus stores will only supply bags for customers who request them. Though bags will always be available, we are confident our customers will support this initiative.
For more information regarding our sustainable efforts, click here.
---
Rent-a-Text is a lower cost option for obtaining the materials needed for your classes! For more information about this program contact the Florida SouthWestern State College Bookstore on your campus, or visit the Rent-A-Text website at http://www.rent-a-text.com/.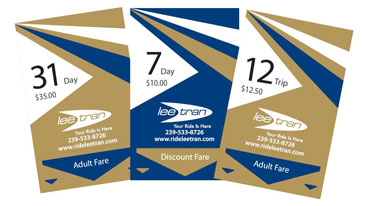 Your Lee Tran pass can be purchased directly from the Lee Campus bookstore.
For more information about LeeTran, please click here to review their Frequently Asked Questions.
---
Charlotte Campus

Collier Campus

Lee Campus

26300 Airport Rd
Punta Gorda, FL 33950
(941) 637-5671

7505 Grand Lely Drive
Naples, FL 34113
(239) 732-5560

8099 College Parkway
Madeleine R. Taeni Hall
Ft. Myers, FL 33919
(239) 489-3345

Regular Hours of Operation

Monday & Tuesday
8:30am – 6:00pm

Wednesday & Thursday
8:30am - 4:00pm

Friday
8:30am – 12:00pm

Saturday & Sunday
Closed

Monday & Tuesday
9:00am – 6:00pm

Wednesday & Thursday
9:00am - 4:00pm

Friday
9:00am – 1:00pm

Saturday & Sunday
Closed

Monday – Thursday
8:00am – 6:00pm

Friday
8:00am - 4:00pm

Saturday & Sunday
Closed

Winter Break Hours of Operation - All Campuses

Thursday December 18, 2014 – Thursday January 1, 2015
10:00am – 2:00pm Weekdays

Closed on Saturdays, Sundays, Christmas Day, and New Year's Day