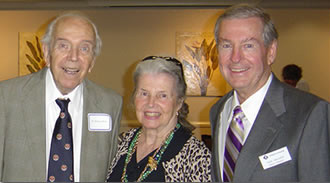 Passionate about art and its preservation, alive with a spirit of adventure, Richard H. and Julia Rush have spent 50 years collecting paintings, automobiles and antiques across the United States and Europe, and sharing a wealth of knowledge with others. Their bold financial decisions, captured in 12 books and more than 600 articles, detail the advantages of investing in things of beauty, not only for profit but for joy as well.  Hoping to kindle an appreciation of art, they have left a legacy of treasures to museums, colleges and universities around the world. "In this life we want to do everything we can to help others," Mrs. Rush says.
Although they have spent a lifetime among the rich and famous – Harry Truman, J. Paul Getty and Jeanne Dixon among them – their philosophy grew from harsh personal experience. When his father died suddenly in 1921, Richard was six and quickly came to appreciate the value of a nickel. His widowed mother forfeited the entire contents of the family's New York apartment to creditors, and moved to a farm in Connecticut where life required both pluck and enterprise. "To go to college I didn't have a penny. We didn't have any money. The taxes were defaulted and the mortgage was defaulted so how was I going to go to college? There were no jobs to be had," he remembers. "The brick factory was paying $1 a day so I decided to raise chickens. My aunt gave me enough money to buy the chickens and I raised and sold them until I had enough to go to a nearby college."
His grit, determination and keen mind won him admission to Dartmouth the following year, and a degree in business that opened the door to success. He subsequently entered Harvard on a full scholarship (Littauer fellow, Brookings fellow), graduating in 1941 with a doctorate in Commercial Science.
Shaped by the school of hard knocks, he vowed to help others whenever he could. "In those days," he says, "I didn't have anything and I wished somebody would give it to me and they didn't. When I later had ample resources, I thought about giving. Edison's tuition is far less than any other college," he says. "Education is the key to success and if education can be made affordable, why not help others?"
The Rushes are long time supporters of Edison State College. Their generosity funded the original garden flanking the Barbara Mann Hall. In 1994 they procured an exquisite bronze statue called Romeo and Juliet from the estate of New York publisher George T. Delacorte, Jr. to grace the garden. Always eager to assist students, they provide an annual art scholarship and student art show awards. They also have planned for their future support of the College through an estate gift and gift annuities. "I feel you should use your money for the improvement of people, particularly those who need it," Dr. Rush says.
Most recently, the Rushes have continued their generosity with a $2.3 million gift to endow library resources and student scholarships. In tribute, the Edison State College District Board of Trustees has named the library facility the Richard H. Rush Library.
The gift coincides with a major twenty-first century-style renovation to the 38-year old library. Construction will commence in July 2007 and will include a cyber café, study areas, classrooms, conference centers and state-of-the-art multi-media and information technology resources.
Edison State College district president Kenneth P. Walker praises the Rushes for their steadfast support and benevolence."The Rushes greatly deserve to be honored because of the way they have lived their own lives and because of their generosity to others."