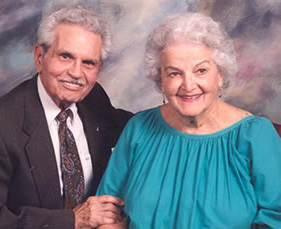 Mrs. Ruth D. "Wallie" Spatz is a resident of Charlotte County, having retired here with her late husband, Dr. Hugo Spatz. Mrs. Spatz has a long history of charitable giving and service to area organizations, including the Gulf Coast Community Foundation of Venice, the Charlotte County Cultural Center, the Charlotte County Homeless Coalition, and the Military Heritage and Aviation Museum. Her gifts honor her late husband who was a WWII veteran. Dr. Spatz was an optician for 35 years and during the war, he modified lenses for gunsights to make them fit on different types of tanks.
An accomplished silhouette artist, Wallie moved to California from her native Ohio during the war years. She dedicated many hours to the USO, the Hollywood Canteen, and military hospitals, where her art gave servicemen a remembrance to send to loved ones. It was during this time that she met her future husband. During the war their relationship continued via daily treasured letters, and they were married the day after he returned from the war in 1945.
Through their generosity, the Edison State College Foundation will establish two separate programs to ensure success for all students who enroll at the Charlotte Campus. The Dr. Hugo D. and Wallie Spatz Scholarship Endowment will provide scholarships to recent high school graduates, GED recipients, and adult students who are returning to college to complete or further their education. The Dr. Hugo D. and Wallie Spatz Chair for Academic and Student Services will provide support programs for at-risk students, leadership development opportunities and activities outside the classroom that promote academic achievement.
On February 22, 2008, The Edison State College District Board of Trustees and District President Kenneth P. Walker chose to express their deepest gratitude to Mrs. Spatz by naming the student services and administration building at the Charlotte Campus the Hugo D. and Wallie Spatz Hall.