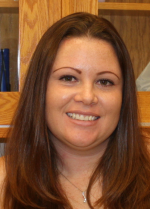 Melanie Clinton, Science Teacher
Email: mclinton@fsw.edu
Phone: (239) 432-6767
Melanie Clinton was born and raised on the island of Marathon in the heart of the Florida Keys. She attended Stetson University where she completed her Bachelor's Degree with a major in Biology and a minor in Sociology. While at Stetson, Melanie was a member of the biological, sociological, and chemical honor societies. Melanie's research focus at Stetson was on neurological pathways and the effects of chemical blocking agents on excitatory neurotransmitters. Her interest in her research topic led her to complete a Master's Degree program in Biomedical Science at Barry University. She also got her first taste of teaching at Barry as a Teacher's Assistant in the Anatomy and Physiology labs.
Melanie was previously a teacher for a premedical academy in Palm Beach County, and now lives with her husband in Cape Coral.