Florida SouthWestern Emergency Notifications
Rave Guardian on FSW Campus
---
Florida SouthWestern State College offers students, faculty and staff free access to the Rave Guardian App to provide an extra layer of security that is right at your fingertips. The Rave Guardian, or as it is known at FSW, BUCS Guardian, provides rapid and proactive communications with friends, family, co-workers, FSW public safety, and even 9-1-1 emergency. By using BUCS Guardian, FSW students, faculty and staff are able to set safety timers, manage and message guardians of their choosing, and have quick access to emergency communication services. This service is free to our FSW students, faculty and staff, just use your assigned college email account to set up your account. Download the the Rave Guardian App today by clicking the icon below and start setting up your account and inviting your guardians.
FSW Emergency Notifications
---
As a student or employee of FSW State College you will receive Emergency Notifications in the event an incident occurs on campus or some natural or man-made event causes the college to take emergency action or to close or suspend classes. You will be able to receive voice or text messages to your home or cell phone and through your FSW email. The contact information used for this system is generated by information you provided to the college.
We recommend everyone take a moment to review and update your PERSONAL EMERGENCY CONTACT INFORMATION.
To register your information and/or update your existing contact information, follow these steps:
1. Login to your portal account
2. Within 'FSW Quicklinks' select PERSONAL INFORMATION
3. A pop-up window with your contact information will open
4. Under Phone Numbers please confirm the information is accurate - It is recommended that you provide your CELL PHONE NUMBER to receive our emergency text alerts and phone calls
5. To update/add a contact phone number, select EDIT and fill in the correct information
6. For a step-by-step guide, click here
Please note: All FSW telephones, including office and classroom telephones are automatically entered to receive messages so there is no need to enter those telephone numbers in your registration.
Alertus Desktop Notifications
---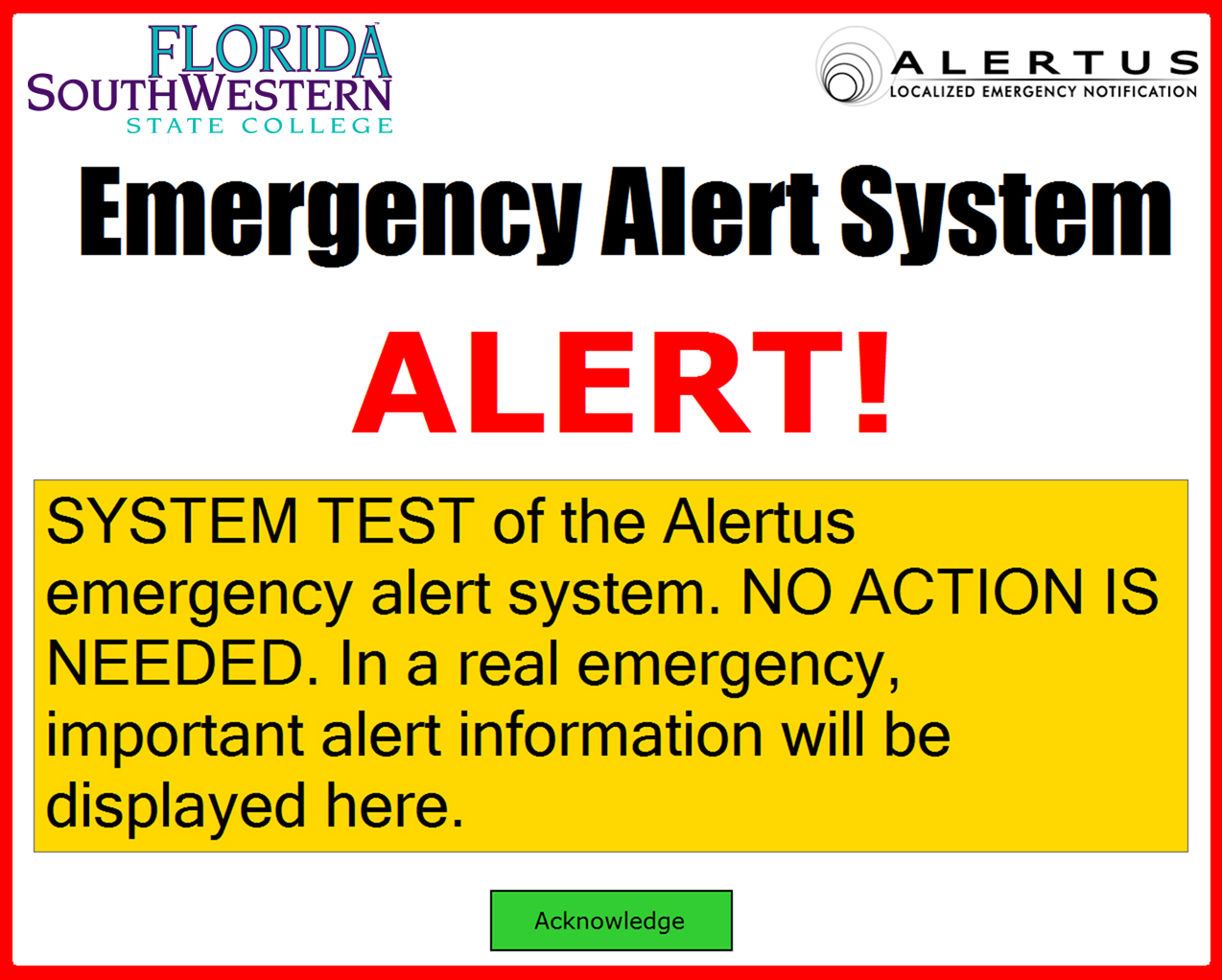 Alertus provides the FSW community with emergency notifications in cases of severe weather or other emergencies on campus. Whenever FSW Public Safety issues an emergency alert, all faculty and staff desktop workstations, computer labs, instructors stations, and student workstations will display a full-screen pop-up message. These pop-up alerts are in addition to those you may receive on your mobile devices and are not meant to replace them. View the handout for this program.