Welcome to On-Campus Housing!
LightHouse Commons is the first student housing and learning community at Florida SouthWestern State College. Located on the Lee Campus in Fort Myers, these beautiful suite-style residences blend modern luxury with incredible value!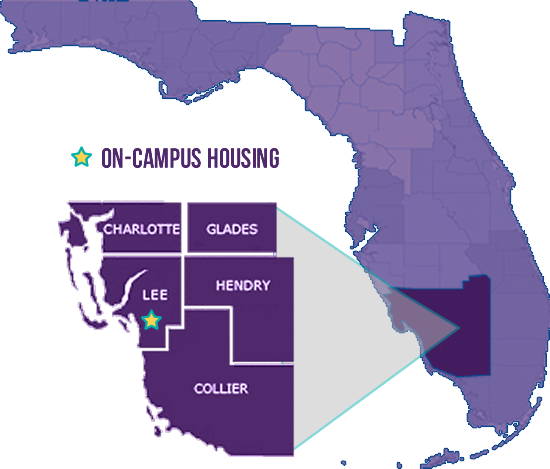 Future Students
There's no better way to find out what campus is really like than to explore it with a current Florida SouthWestern State student. We welcome visitors to campus all year long. Our student tour guides will show you the heart of campus, share their experiences and provide general information about the college they call home. Tours are led by members of our Admissions team, are outdoors and last about an hour or more depending on the size of the group, so wear your walking shoes and dress for the weather!
Click here to schedule a full Campus Tour that includes a stop at LightHouse Commons, our on campus residence hall, the Admissions team host tours:
Mondays, 10 a.m. and 3 p.m.
Wednesdays, 10 a.m. and 3 p.m.
Fridays, 10 a.m.
Located near Florida's world-famous Gulf Coast beaches, once you explore campus and tour LightHouse Commons, you'll know why so many students call Florida SouthWestern State College home.
---
Current Students or those wanting a housing tour only
We know you are already familiar with our beautiful campus so we welcome you to stop by LightHouse Commons for a tour.
Our Residence Life Team hosts tours for current students:
Tuesdays and Wednesdays between 1:00 p.m. and 3:00 p.m.
Or call us at 239-432-7324 to schedule a tour if the date and times above do not coordinate with your schedule.