Lee Clubs and Organizations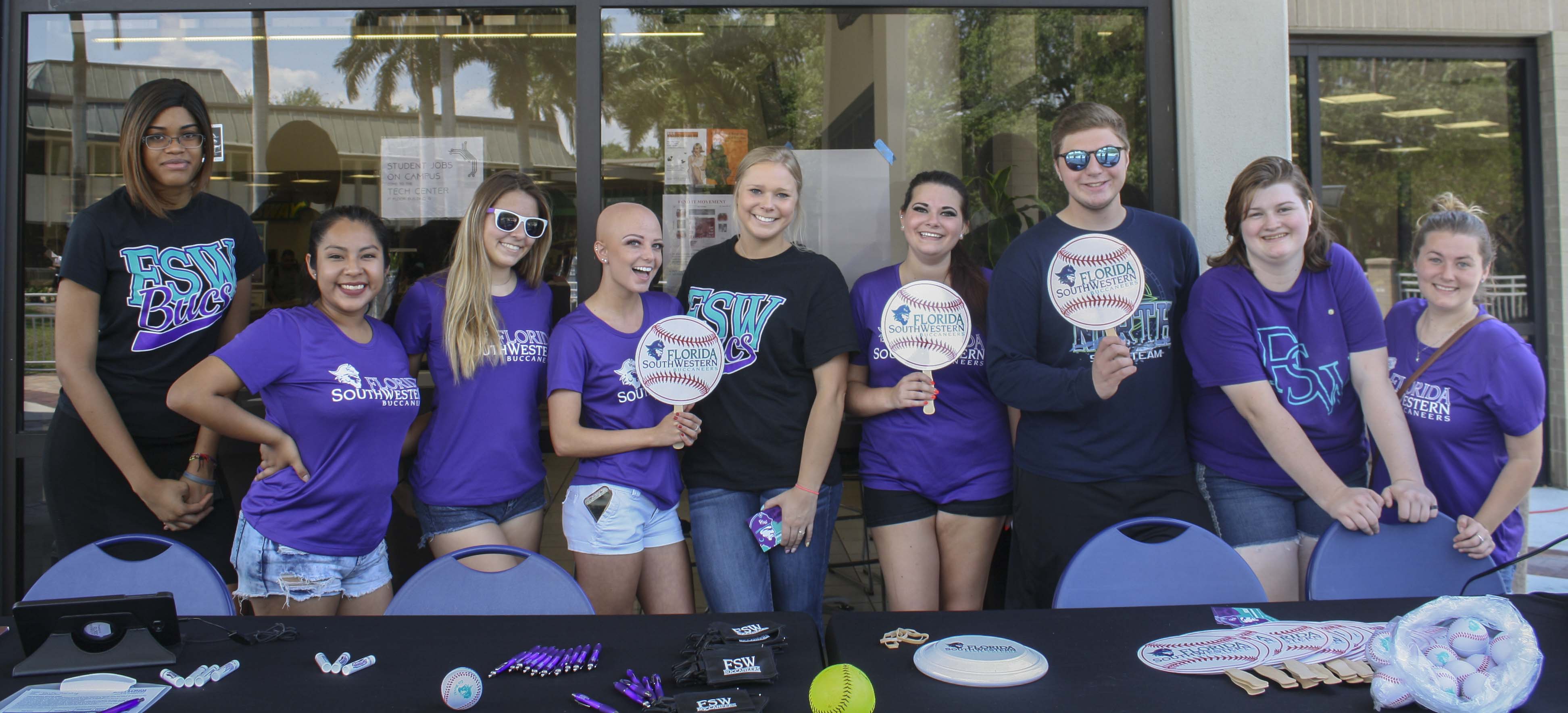 Learn more about the clubs offered through FSW's Thomas Edison (Lee) Campus
Anime Club
The anime club is an organization that meets to discuss, show, and promote anime and appreciation for the Japanese culture.
Aviation Club
The aviation club's goal is to increase and promote aviation related activities at FSW with the new partnership with Western Michigan University.
Bowling Club
To promote the sport of bowling and to give the students the opportunity to bowl at the intercollegiate/intramural sports level.
Campus Activities Board
The Campus Activities Board (CAB) is a student-led programming board that coordinates free and fun campus-wide events for the Florida SouthWestern State College community. These events include two main events each semester, formals/dances, casino nights, open mic series and more. The mission of CAB is to create diverse events, programs, and activities that foster personal development, school spirit, and togetherness. CAB strives to provide an array of social programs and/or activities to enhance the experience of all FSW students.
Cardiovascular Tech Club
To bring awareness to the CVT Program at Florida SouthWestern State College and the community as a whole, and to promote the mission of the CVT program to produce competent cardiovascular technicians.
Chess Club
To encourage competitive and friendly chess play on campus. It will provide an accessible environment for amateur, intermediate, professional, and social chess players to engage in competition, exchange strategy, and solve chess problems. The FSWCC (Florida SouthWestern State College Chess Club) aims to promote a deeper appreciation for the sport by involving students in chess lectures, evaluating historic/notable games, and organizing tournaments.
Chi Alpha
To develop the spiritual life and abilities of the students in relation to God, to each other, and to the world at large within a Pentecostal Christian context and in a manner consistent with the teachings of the Assemblies of God USA. As part of this mission, Chi Alpha seeks to introduce fellow collegians to an authentic relationship with Jesus Christ. Chi Alpha plans to do this through:
Prayer: Communication with God.
Worship: Expressions of thanks through word, music, and service.
Fellowship: Community of students developing quality relationships.
Discipleship: Learning about Jesus and following His example.
Mission: Living a life that reflects our relationship with God in what we say and do.
Creative Writing Club
To provide an opportunity for students of FSW to:
Celebrate: To commemorate and honor freedom of speech, freedom of the press, writing, and literature, creativity, imagination, rhetoric, and various writing genres (e.g. Fiction, poetry, creative non-fiction, et al).
Rewrite: To intellectually support members in constructive critiques on their work or ideas in relation to literary techniques, mechanics, ethics, and development.
Artistry: To respect writing as a form of art.
Explore: To probe and examine various authors, literature, films, genres, and criticisms.
Trust: To provide a safe and civil forum to gather, express, and share all things that circumvent around writing as art, craft, and creativity.
Educate: To teach and assist the FSW community (students, staff and faculty) on civic engagements, on and off campus through writing.
Euclidean Society
To stimulate interest in mathematics by providing public recognition of superior mathematical scholarship and by promoting various mathematical activities beyond the classroom.
Fellowship of Christian Athletes (FCA)
FCA is a national organization that provides opportunities to students through ministry. The organization focuses on encouraging, empowering, and engaging student athletes to make a difference in others' lives through Jesus Christ.
Gay-Straight Alliance
We are in need of a Staff or Faculty member to serve as the Advisor. Contact The Office of Student Engagement if you are interested in being a part of this club.
The purpose of the organization is to provide an opportunity for students of FSW to create and maintain a safe environment for all individuals regardless of race, religion, physical or mental abilities, gender identity/expression, or sexual orientation. We strive to create and maintain a non-threatening, non-judgmental environment and accept each person as they are, believing that they are all equal and deserving of respect, freedom, and liberty.
Hillel
Hillel is a club that provides social and educational programming, focusing on the Jewish culture and history.
Humanities
To explore and understand the interdisciplinary aspects of the world around them.
Ignite
We are looking for students and an Advisor who are interested restarting this club. The purpose/goal of Ignite was to connect people to Jesus and one another by being a place of New Beginnings. This Club brought students together with love, fellowship and with positive outlook of life to help others.  Ignite members were a community of believers who love God and love God's people.

Contact Student Engagement if you are interested in being a part of this club.
Intervarsity Christian Fellowship
Intervarsity Christian Fellowship Club is a vibrant campus ministry that establishes and advances witnessing communities of students and faculty. We minister to students and faculty through small group Bible studies, large gatherings on campus, leadership training, thoughtful discipleship and life-changing conferences and events.
Kappa Delta Epsilon (K.D.E)
An honorary education fraternity which supports the cause of education by fostering a spirit of fellowship, high standards of scholastic attainment and professional ideals among its members. We are an active group engaged in preparing our members for the teaching profession.
Most Magical Club
The purpose of this club is to educate students on the history and impact of the Disney Corporation. Club members will participate in arts and crafts, discussions, and events related to the Disney Corporation.
National Society of Collegiate Scholars
The purpose of this organization shall be as follows:
To recognize and celebrate high achievement among first and second year students in all academic disciplines.
To encourage and promote high standards throughout the collegiate experience.
To provide opportunities for personal growth and leadership development for members.
To provide scholarships, such as the Merit Award, Scholar Abroad, Scholar at Sea, and Graduate to member(s) who successfully apply and compete for these awards.
To organize and encourage learning opportunities through community service.
To foster an overall appreciation for the value of the higher education experience.
To continue to uphold the standards determined by the Association of College Honor Societies as part of the organization's membership.
National Student Nurses Association
To promote and encourage collaborative relationships with nursing and health related organizations. To contribute to the education of nursing students, develop professionalism, and participate in community activities.
Paralegal Club
The Paralegal Club provides an opportunity for students to get involved in the paralegal studies program to network, engage in outreach in the legal community, and promote the growth and development of paralegal students.
Respiratory Care Club
The purpose of the Respiratory Care Club (RCC) first and foremost is to inform and educate the FSW community and the public on respiratory illnesses and diseases.

The RCC members also serve as a fundraising organization to help fund respiratory care students' additional program expenses, like the ACLS training and Pinning Ceremonies.
Philosophy Club
The Philosophy Club is devoted to providing an environment where members of the Florida SouthWestern State College community can explore philosophical ideas and develop critical thinking skills primarily through discussion.
Phi Theta Kappa (P.T.K.)
Phi Theta Kappa International Honor Society serves to recognize and encourage the academic achievement of students and provide opportunities for individual growth and development through honors, leadership and service programming.
Plant Based Plate (PBP)
The plant based plate club promotes and celebrates healthy eating by educating students on a wide variety of vegan dishes, and connecting them to resources which support a plant based diet.
Pre-Med Club
The pre-med club provides an opportunity for prospective medical students of FSW to achieve volunteer hours, gain insight into the process of the MCAT exam, and shadow physicians in clinical settings to further their understanding of the study and practice of medicine.
Student Economist Union
The mission of SEU shall be to:
Apply the ideology of truth to economic theory and application in an effort to better manage our scarce resources for the benefit of society.
Engage the FSW community in an empathic embrace to strengthen their appreciation of the power, beauty, and limitations of economics. This collaborative effort should increase everyone's economic competencies and talents, as if guided by an "invisible hand".
Troops and Students Connect Force (T.a.S.C.)
To bring all branches of service together and aid in the transformation from service member to student. To help fellow Veterans, Military families, and students in our community.
United Gamers Association (U.G.A.)
The United Gamers Association is a social club where gamers can come and hang out with like-minded people and have fun! We are NOT a competitive gaming club; our club was founded for gamers of every skill level and walk of life to get together and bond over what we love the most! We also occasionally hold special events for the student body, like video game tournaments and other gaming-related events! Several of us enjoy video games, but we also welcome gamers who enjoy trading card games and tabletop games. If you enjoy games like these, then this may be the club for you!
Yoga Flow
To create a save place where students will feel free to express themselves without any worries of judgment.
Explore different forms of yoga in order to meet the wants and needs of every member.
Promote and encourage the health and wellbeing of one's body and mind.