Introducing WEPA™ – our new on campus student printing solution. The WEPA™ system is much more economical per page than printing from a personal inkjet printer. On average it will cost YOU $0.17 per page for black and white prints on a traditional inkjet printer. Your cost to use WEPA™ is $0.10 for black and white and $0.35 for color.
Pricing
This new pricing structure is effective on all WEPA™ printing locations, which are scheduled to be introduced on August 8, 2012.
Single-Sided
Duplex
Black & White
10¢
Black & White
20¢
Color
35¢
Color
70¢
As we transition to this new student printing solution, all other pay for print locations will gradually be converted to the WEPA™ printing/copying program.
Kiosk Printing: The Basics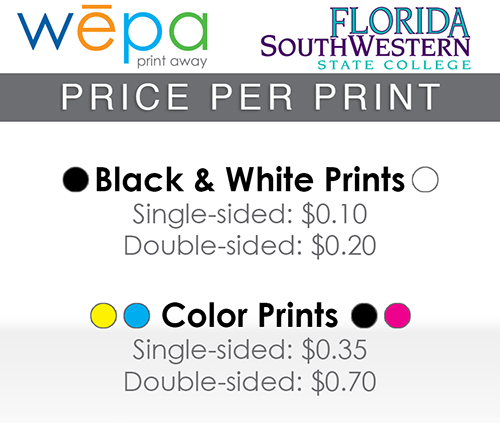 5 Kiosks located on Lee Campus; 3 on Charlotte Campus; 3 on Collier Campus; 1 on Hendry/Glades
Prints black/white and color copies; single or double-sided; 8.5X11
Kiosks use high-quality laser paper and high-definition ink
Cloud printing with touch-screen kiosks
Prints most Windows and MAC file types
Print from anywhere - home computer, laptop, or USB at a kiosk
Files remain available for 24 hours and are accessible at any kiosk on campus
WEPA™ Customer Service 1(877) GET-WEPA