FSW Serves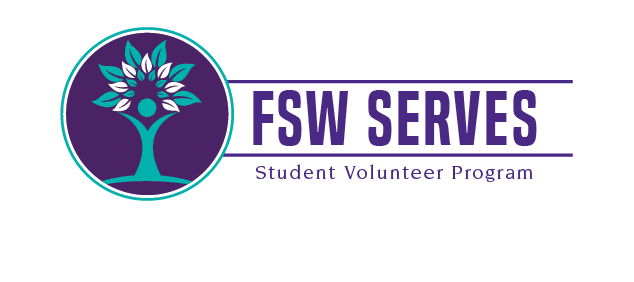 Through FSW Serves, Student Engagement at Florida SouthWestern State College is committed to providing volunteer opportunities to enhance and deepen the student experience. Each campus offers a wide variety of FSW Serves activities. Some possibilities include:
Campus-based Events
Blood Drives
Relay for Life
Thanksgiving Food Baskets
Local Community Events
Building with Habitat for Humanity
Assisting at Veteran's Homes
Mentoring local youth
Pride Parades
Working with Animal Welfare Leagues
Beach Cleanups
Fort Myers Heart Walk
Angel Trees
Assisting United Way
National Events
Make a Difference Day
Alternative Spring Break
Check out your campus event calendar to see what specific events your campus currently has planned!
Be sure to keep track of your hours on the FSW Serves Tracking Sheet, due to your Student Engagement Office by April 1st of every academic year.
For more information, please inquire at .