Success Stories

FSW in the News
Student & Alumni Success Stories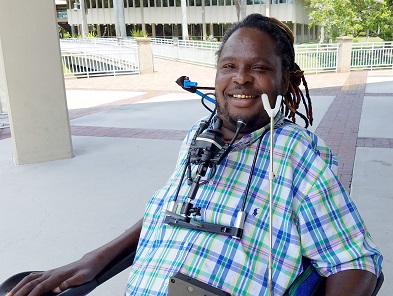 Luis Munoz
BAS, Supervision and Management - 2018
FSW graduate Luis Munoz redefines the idea that our graduates fly high. A third generation Human Cannonball, he earned a Bachelor of Applied Science (BAS) in Supervision and Management in 2018. Luis completed his degree online while living in Spain and managing his own business.
Faculty & Staff Success Stories
Wendie Thompson
NISOD Award Winner
When Wendie Thompson was announced as the 2019 NISOD Staff Excellence Award winner during FSW's annual President's State of the College event, she wasn't sure they were talking about her.
"I couldn't believe my name was called," Thompson said. "I was in shock and just sat for a second making sure it was me."
Thompson is an administrative assistant for FSW's School of Arts, Humanities and Social Sciences and the recipient of the 2019 National Institute for Staff and Organizational Development (NISOD) Staff Excellence Award.
Every year, NISOD honors college staff and administrators who have demonstrated an outstanding commitment and contribution to students and colleagues at their institution. Thompson plans to represent FSW at the annual NISOD conference in Austin, TX, in May.
Thompson has worked at FSW for 10 years, and the nomination letters her fellow employees wrote for her prove why she is so deserving.
"Wendie allows the faculty, the rest of the staff across the college and me to help our students to be successful because she does her job so well."
"Wendie has an astounding capacity for, and tolerance of, the hundreds of interruptions that are endemic to the office of a dean. She greets each new distraction with good cheer and calm attention to detail. She is rarely allowed a moment of peace, and yet through this maelstrom, manages to accomplish an astounding volume of work each day. Contracts, scheduling, flummoxed students, errant faculty and desperate deans are all taken in turn and treated with kindness, competence and grace."
"Wendie takes time to find the best method for completing all tasks. I have asked her on numerous occasions to provide training for my team. We hired a new, part-time operations associate who needed to get up and running during a busy time of year, and Wendie graciously offered to sit with her and provide any assistance she needed. Her contributions to the college are invaluable!"
Thompson credits her dad for instilling in her to go above and beyond when helping people.
"What we do here is important," Thompson said. "I enjoy coming to work every morning and working with the people here. Everyone really cares about our students and our programs. I was humbled to be recognized, and it's amazing to know that people appreciate what I do."