Success Stories

FSW in the News
Student & Alumni Success Stories
Commencement Stories: Mariela Chavez
Hello, my name is Mariela Chavez, and I am a proud dental hygiene student here at Florida SouthWestern State College. I am graduating this spring semester with my A.S. degree in Dental Hygiene, Class of 2020!
During the program, my class and I have participated in many community service events to educate the public about oral health and provide dental hygiene services to members of the community. Being part of this program has opened the door to greater opportunities, unique experiences, and most importantly, growth and success.
While in the program, I had to overcome many challenges with my personal life as a single mother, working when not in school, and dedicating long hours to studying in between my schedule. I had to sacrifice much time away from my daughter, but I continued to push forward in spite of what life threw at me.
My daughter is my biggest motivation for all my efforts, and I would not be who I am if it were not for her. I only hope to be the role model that every parent wishes to be for their child and that this journey was well worth the fight.
I am also currently dual-enrolled at St. Petersburg College to earn my Bachelor's in Applied Science degree in Dental Hygiene and anticipate graduating by next year.
What I want to express to future college students is that FSW is very dedicated to helping students succeed academically and offers many resources for students to reach their long-term academic goals. I am very grateful for the FSW instructors, campus resources, and student services in helping me achieve this milestone of becoming a health care professional.
I would like to congratulate my fellow FSW graduates and colleagues on this extraordinary accomplishment! Our hard work has finally paid off, and we are now welcomed into the workforce to improve the overall health of the community.
I want to give a special thank you to Dental Hygiene Program Director Karen Molumby and the dental hygiene instructors that have supported us throughout the entire program. I deeply appreciate your kindness, encouragement, dedication, and commitment to making bright and successful dental hygienists.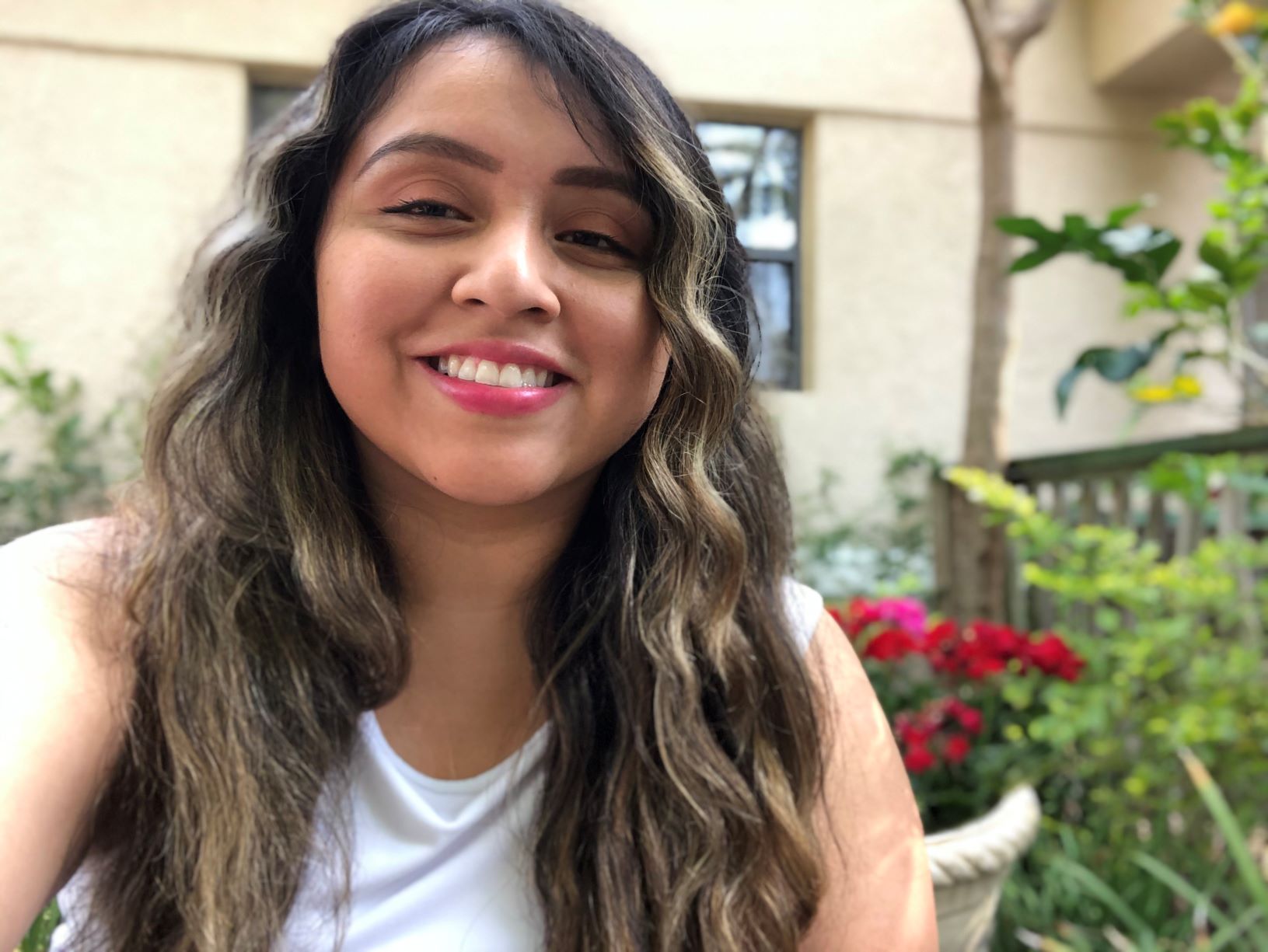 Commencement Stories: Bertha Mendez
For FSW Class of 2020 graduate Bertha Mendez, choosing to earn her A.S. degree in Early Childhood Education was a no-brainer.
"I absolutely love children and all the joys and challenges that come with educating them," said Mendez.
For nearly 12 years, she has taught preschool to three- and four-year-olds, spending the last five years at the Guadalupe Center in Immokalee.
"The children who come through the program are so eager to learn, and they do so through play," she said. "The great thing about childcare is that we allow the children to lead, and we use their interests to create activities that allow them to build on skills they already have. We model great behavior, and we problem solve when obstacles occur. I have 19 little children that I work with every day, and every day I look forward to seeing all 19 of them."
But Mendez didn't think she would be able to attend college.
"College is costly, and I couldn't afford it," said Mendez. "Then, I received a scholarship from a program called T.E.A.C.H that works with my childcare center to help teachers receive an education."
"I chose to attend FSW because they offered a plethora of online classes and had local tutors if I needed more help," she said.
Mendez plans to continue her education and earn a bachelor's degree in early childhood education.
"My motivation for getting a degree would have to be the children I work with," Mendez said. "Having a degree just gives me the encouragement that what I am doing is right."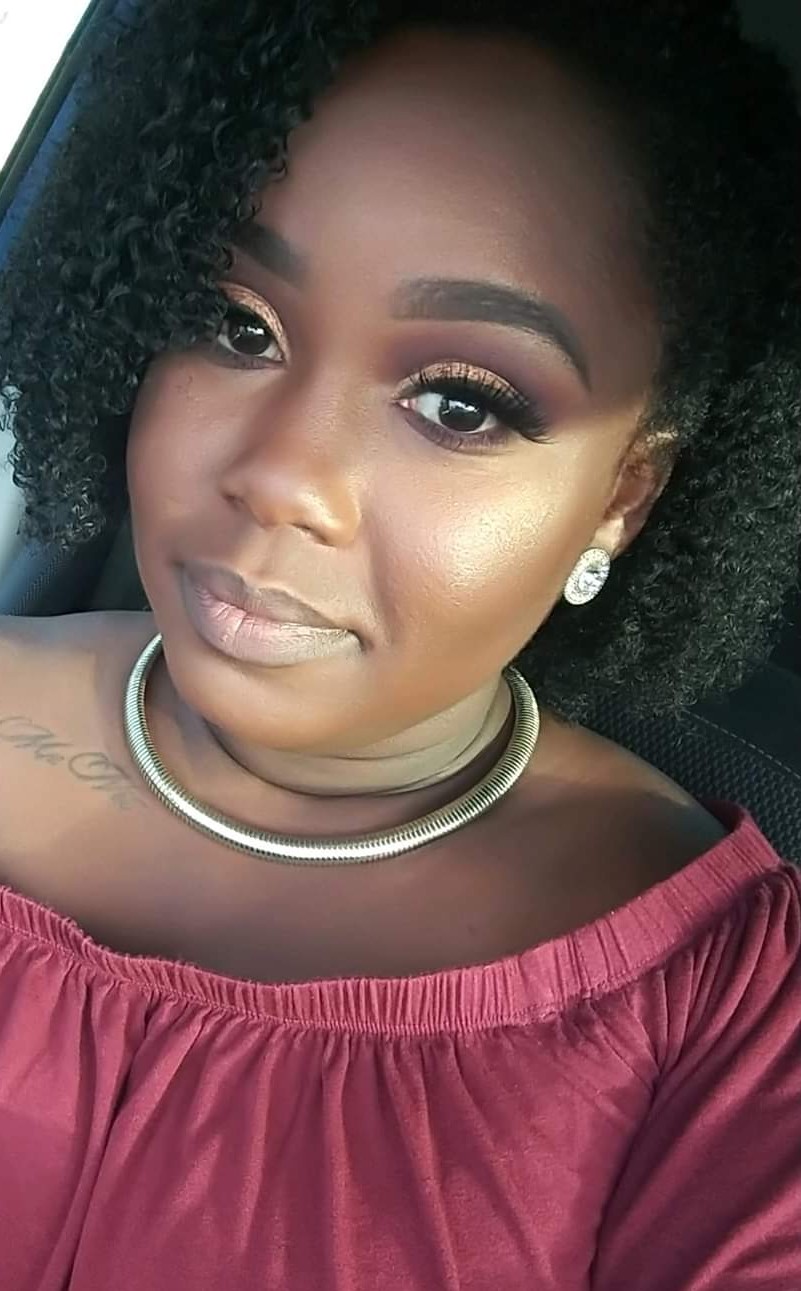 Commencement Stories: Henry Lozano
FSW student Henry Lozano will earn his A.S. degree in Architectural Design and Construction Technology this spring. Originally from Bogota, Columbia, Henry has worked in the construction field since 2006.
"I chose the construction industry in the U.S. because the field continues to grow more and more each day with new software and technologies."
He enrolled at FSW to continue expanding his career. "Education is very important to me. If you have a good education, you will have better opportunities for better jobs and better pay."
Henry embraced his time at FSW. He worked as a peer mentor, and he was nominated to be a student commencement speaker.
"To the Class of 2020, I'd say enjoy the experience, and thank you for all of the good moments we shared. Go Bucs!"

Commencement Stories: Kelly Maguire
FSW student Kelly Maguire has a college resume that even some ivy league students couldn't claim.
She's a member of the FSW Honors Scholar Program, the FSW Leadership Academy, the FSW Campus Activities Board, Phi Theta Kappa (PTK), the National Society for Collegiate Scholars (NSCS), and she is a founder and president of FSW's chapter of the Active Minds club, a nationally-known mental health organization. She was also named a 2020 Coca-Cola Academic Team Gold Scholar and was nominated to be a student speaker for FSW's 2020 commencement ceremony.
With a list of accomplishments this long, you'd likely be surprised to learn the challenges she's had to overcome in just two short years. But if you know Kelly, you won't be surprised to learn that these challenges have only proven to inspire her even more.
During her first year at FSW, Maguire struggled severely with mental health issues, and she found it difficult just to show up to class many days. She was in such a state of crisis that she had to take a two-month leave of absence from school during her 2019 spring semester to attend a residential mental health treatment center. But while she attended therapy sessions for eight hours every day, she also continued to work on her academics.
"The work was exhausting, and I could not have stayed on track academically if it were not for my honors advisors, professors, and the counseling department at FSW," said Maguire. "I overcame this hurdle by turning my pain into power, and I found a new motivation in my goal of returning to school by fall."
Maguire finished that spring semester with a 4.0 GPA and made it back to FSW in time for the start of the new school year. She also felt extremely driven to make sure that other students did not have to go through the mental health struggles she experienced, so she used all of the pain she still carried and focused on helping to establish an Active Minds chapter at FSW while continuing her work with the Mental Health Matters committee.
Then, while she was preparing to return from winter break for the Spring 2020 semester, Maguire suffered a traumatic accident, which left her with a broken back. She was put on bed rest, and she was once again unable to come to campus for class. However, she continued to write agendas for the Active Minds meetings and worked virtually with faculty and staff, keeping up with her classes online. After just five weeks, she was able to return to campus, but only for a short time.
"The three weeks before spring break were incredible," Maguire said. "We flew to the National Active Minds conference, and we had big plans to host our first annual MindCon: Half Day Mental Health Conference."
Then the world changed for everyone. COVID-19 forced FSW to move all spring classes and activities to an online, virtual format, and Maguire found herself forced to leave campus once again.
"I have unexpectedly been forced to take a leave from school three times in the last year," she said.
Despite all of the challenges, she has maintained her 4.0 GPA, maintained her status in the Honors Program, continued contact with faculty and staff, and she will always keep advocating for her greatest passion – mental health.
Maguire will transfer to FGCU this fall to pursue her bachelor's degree in psychology. She plans to stay involved with the Active Minds chapter at FGCU and collaborate with FSW to create a cohesive, positive mental health culture in Southwest Florida. She also plans on volunteering at FSW to continue the work she started here.
"Since I was 13 years old, I have aspired to become a child psychologist," Maguire said. "After living with mental illness, I found that my greatest passion was to help others who may be suffering just as I once was. My ultimate career goal is to make a large impact on many people's lives and to help children and adults alike feel like they are not alone and that recovery is possible. There is so much stigma surrounding mental health, and at the end of the day, I know my purpose is to smash the stigma and help those in need.
"There is no school I would rather be graduating from than FSW," Maguire said. "I cannot express in words how much this school has helped save me, put me on the right track, and helped shape me into the person I am today. FSW will challenge you to take initiative, stand up and be a leader for the things you are most passionate about, and give you opportunities I don't think you can find anywhere else."
She has this message for the Class of 2020:
"There is no other group of students I have met full of such resiliency, grit, and determination. Ten years from now, we will look back on this day and remember ourselves as courageous, strong, and compassionate. As Bucs, we have formed a close community that will stand together no matter what storm hits us. We have all gone through great challenges to stand where we are today. To continue studying virtually while being separated from those we love, and to face every day with uncertainty, yet continue to be there for others, is true strength. Class of 2020, we will never be forgotten. I want to send you all virtual hugs, handshakes, and congratulations because even without this pandemic, you have all overcome great strides to get where you are today. It has been an honor to be a part of your class, and I will forever cherish the memories made with so many of you. I want to leave you with this quote: 'Look closely at the present you are constructing. It should look like the future you are dreaming.'- Alice Walker."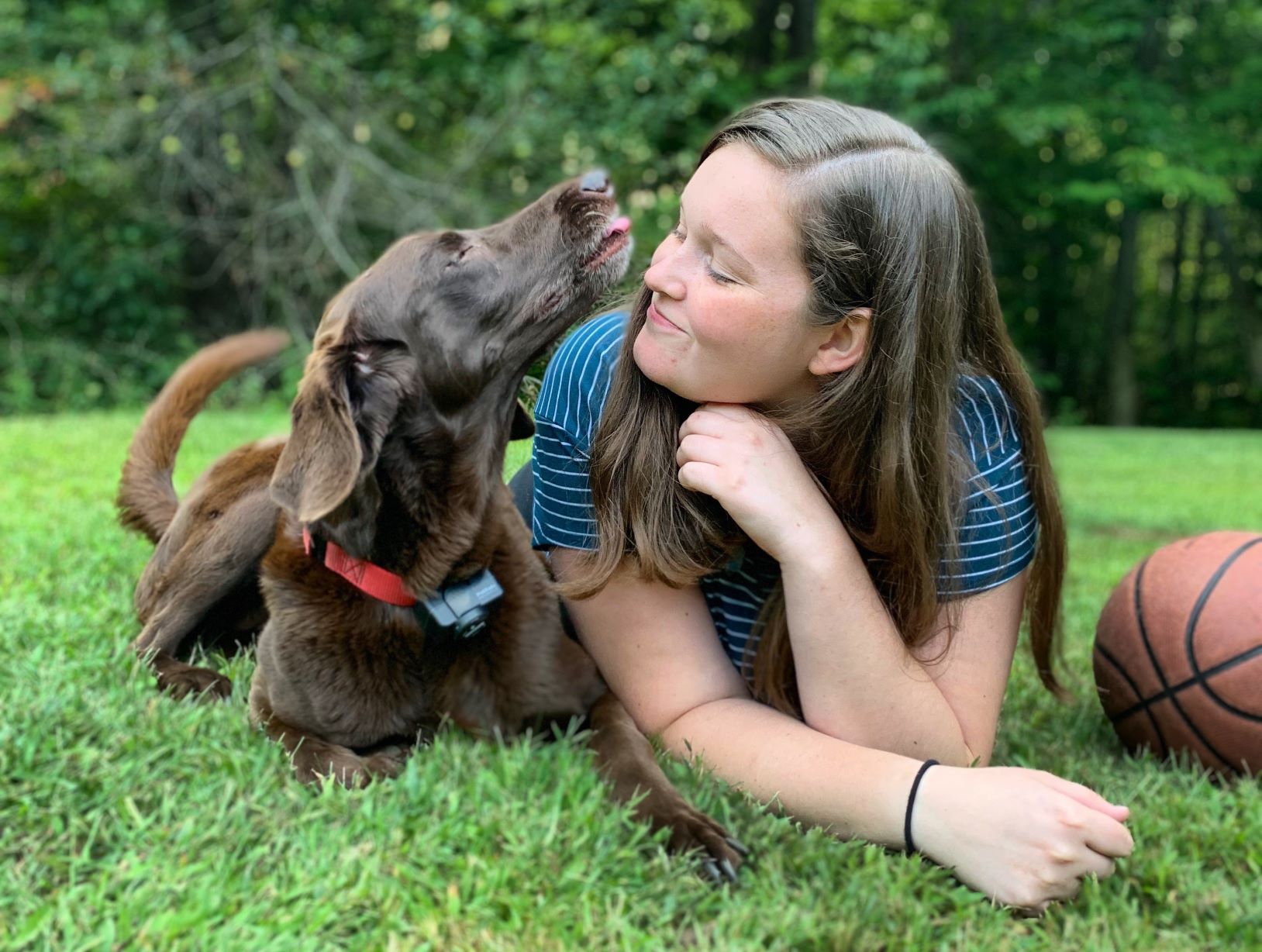 Brook Sanchez
"I started my journey at FSW (it was Edison State College when I began) in high school as a full-time dual enrollment student. I graduated with my associate degree a few weeks before I graduated with my high school diploma in 2013. During my senior year of high school, I applied and was accepted into the University of Central Florida. I planned on attending there and pursuing my degree in dental hygiene. However, at only 17 years old, I found out I was pregnant. Due to this unforeseen, life-changing event, I decided to stay local and continue my journey at FSW. Talk about a blessing in disguise! I couldn't have made a better decision than to stay at FSW. I began my prerequisites as a pre-dental hygiene student. During this time, I had a change of heart and knew my calling was in education. The FSW advisors were so helpful in allowing me to switch my major. I delivered my daughter in January 2014 via c-section and began my prerequisites for elementary education at FSW that same semester. The professors were so understanding and worked with me every step of the way as I was learning how to cope with being a new mother along with working full time and attending college. After my prerequisites, I was accepted into the elementary education program. These professors are like no other! They genuinely care about your success along with your personal life. In November of 2015, I had my second daughter (also a c-section) and the professors went above and beyond to work with me during this time. I started my final internship in January 2016 at River Hall Elementary and then graduated in May 2016 with my bachelor's in elementary education. I was hired by the Lee County School District as a teacher for the 2016-2017 school year at River Hall. In 2017, I decided to work toward my master's degree in elementary reading with Grand Canyon University. I graduated from there in September 2018 and that same month, I had my third child (finally a BOY). Three kids, three degrees, three years of teaching… It definitely was not easy, but it was so worth it.
I give a huge amount of credit to the professors at FSW as they never ceased to believe in me. I was the youngest student in the program, yet the professors never let that be a hindrance. The confidence that they instilled in me continues to remain. I have learned that regardless of any circumstance, do not give up on your dreams. Most likely, there will be bumps along the way. It might change your path slightly, but do not lose sight of your end goal. Looking back, I never thought I'd be where I am now. Every event played a special part in my journey, and I will be forever grateful."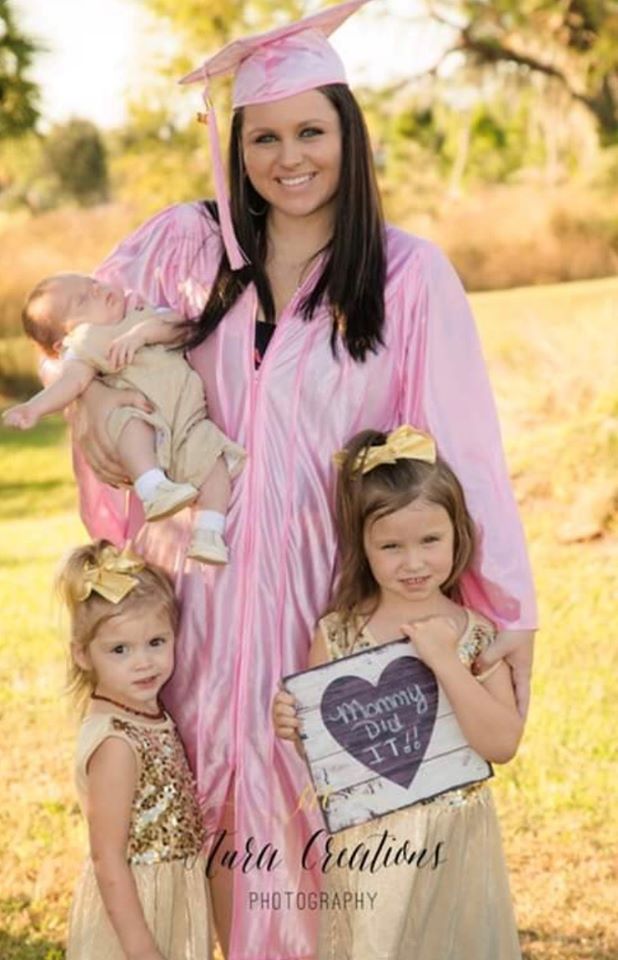 Mike and Jenn Ochocki
For FSW students Mike and Jenn Ochocki, it's never too late to earn a college degree.
Mike, an Army veteran and first-generation college student, dropped out of high school in his junior year. He took some classes while he was on active duty, and then again after he completed his service, but still never finished his degree. "I didn't really understand college or what an education could do for me."
Eventually, Mike wanted a career change and enrolled at the FSW Charlotte Campus. The first year was a challenge, but Mike's wife, Jenn, was the support he needed to get through.
"I struggled with self-doubt and imposter syndrome, and I had a hard time in my math class," Mike said. "But she let me know that my test grades did not define me as a person. Her support helped me overcome my self-doubt."
After watching Mike go through his first year of college, Jenn decided it was her time to go to college, too. Having been a stay at home mom for several years, Jenn wanted to earn her degree to better her job prospects once her kids were grown.
"It takes a lot of humility as a non-traditional student to sit in classrooms with younger students," Jenn said. "They are much sharper at some things, and though you're older, you're starting at the same place."
As non-traditional students, both Mike and Jenn have faced challenges that younger students might not experience, but through the support of each other and the FSW Charlotte Campus faculty, they have been able to overcome those challenges.
"Being in it together helps a lot," Jenn said. "We share experiences and know what each other needs. We are a team. We cheer each other on and bring each other up. And the support from faculty is so much more than I expected. They are understanding about where we are in our life stage because that's where they are too."
"The faculty are mentors, encouraging and knowledgeable, and the Academic Support Center (ASC) is helpful when I need the extra learning support," Mike said.
Both Mike and Jenn are now tutors at the ASC. In fact, while Mike struggled with math at first, he is now a math tutor and wants to become a college math professor.
"I'm glad FSW is here," Jenn said. "I am able to learn and grow. The classes are small, and it's a great environment for interaction with others. The professors are accessible and available, and they are just as good as a university."
"Who knows where I would be without FSW," said Mike.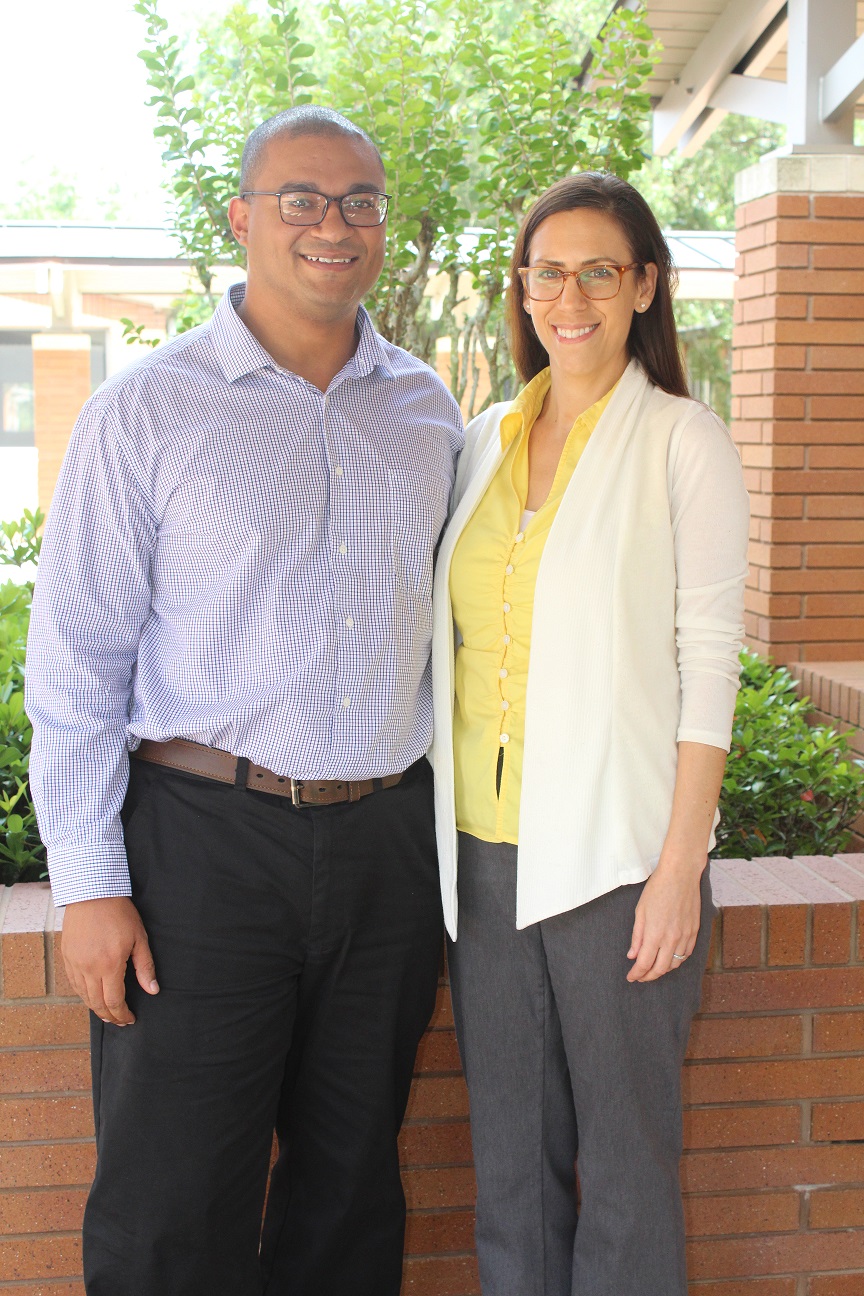 Stephen W. Buckley celebrates 50 years with the firm
Stephen W. Buckley never intended to stay in Florida after his grandparents offered to pay for his college at the "new" Edison College (now Florida SouthWestern State College). His planned to get his education in Florida and move back to Connecticut where he grew up.
His grandparents had been vacationing on the other coast and moved to Fort Myers in the 1950s. "None of the kids or grandkids were close by, so they asked me if I would come down and start my college and they would help with expenses."
He transferred to University of Florida for his undergraduate degree in journalism and then Florida State University for his law degree. "One of the kids in the class asked the assistant dean where he would go to practice law, and he said Fort Myers," Buckley said. "I had ties in Fort Myers."
He said he always knew he wanted to be a lawyer. His father and grand parents were in real estate. "I grew up with real estate law," he said.
Now he assists clients with wills, trusts, estate planning, probate, real estate and real property law cases. Buckley is a top-rated lawyer under the Martindale-Hubbell Peer Review rating system.
After graduating from law school in 1969, he moved to Florida and joined the firm, then seven years old and located in downtown Fort Myers in its present location at the corner of Main Street and Broadway.
Fort Myers was a different place when he started. Area Bar meetings were held in a corner of the former Snack House restaurant. Edison Mall had just opened, pulling Sears and J.C. Penney's from downtown. When he started, he said there were five men's stores downtown. "Attorneys wore suits more then than they do now," he said, "Everyone dressed to the hilt."
Buckley has seen tremendous change in the law through the years. "I think today there are more judges than attorneys," he said. "When I started there were two circuit judges and one county judge."
He remembers one of his first cases was to get a woman in real estate the right to sell property she owned without consent of her husband, which was the rule at the time. Shortly after he was able to make her a "free dealer," the rule was abolished. He also remembers a case where he worked with the Coast Guard to have a man declared dead who disappeared in the Bermuda Triangle on a flight to Bimini. Without a body, it would have taken five years for his spouse to get a death certificate. He said the investigation determined how much fuel the plane had and every place the plane could have landed. The plane, the man and his passenger were never found.
He enjoys spending time vacationing at his home in Maine, but Buckley says he has no intention of retiring. "I enjoy what I'm doing," he said. "I don't play golf. I don't play tennis. I don't fish. I'll just keep doing it while I can, and the clients want to work with me. My wife would have a long honey-do list if I did retire."
He and his wife, Bonnie, who he met in Fort Myers at a roller-skating rink, celebrate their 50th wedding anniversary in August.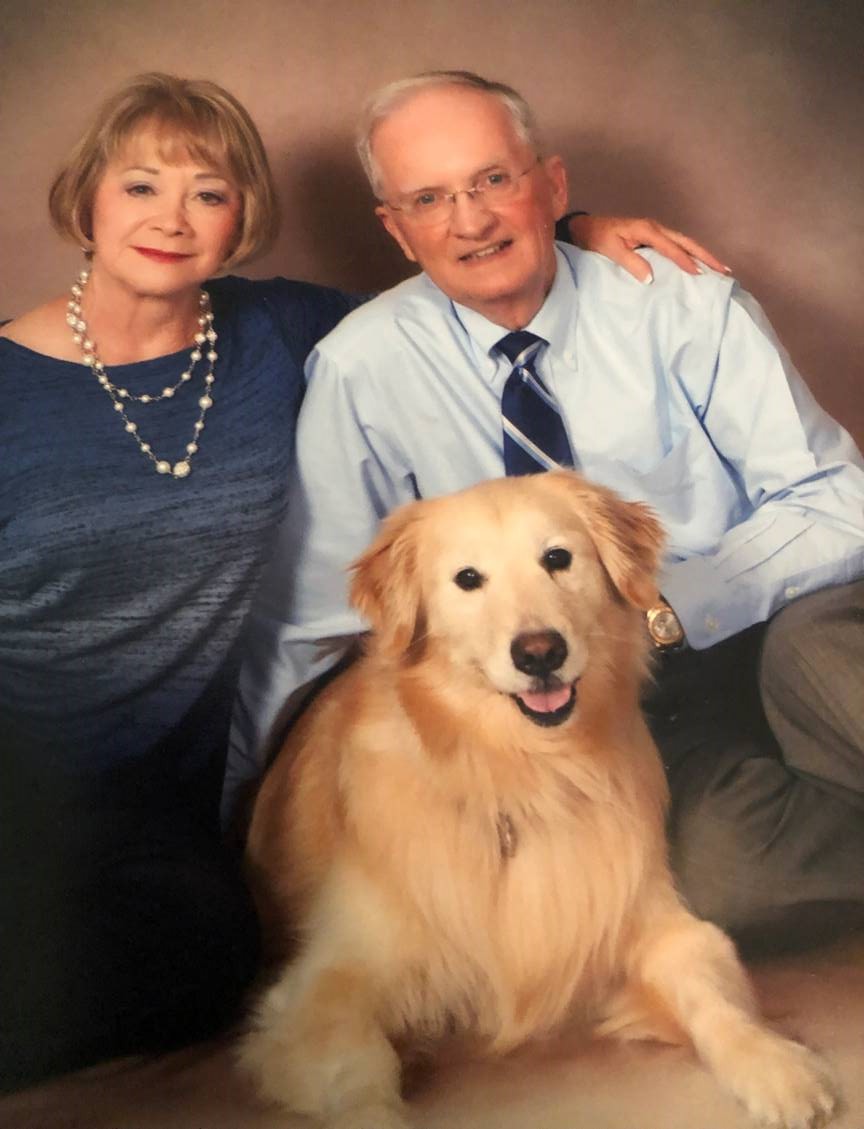 From a Dream to a Degree
Melissa Hernandez didn't think college was an option for her.
Born in Toluca, Mexico, Hernandez's parents brought her to the United States when she was just four years old. They made their home in Naples and have remained ever since.
Being so young, the transition to life in the U.S. was not too challenging for Hernandez, and she attended ESOL classes when she began elementary school.
"I would speak Spanish at home and English at school," said Hernandez. "As I became more fluent, I was able to help translate for my parents. I noticed as I got older that my English became better than my Spanish."
With her dad working in construction and her mom staying home to raise her and her younger siblings, Hernandez always just assumed that once she graduated from high school, she would go directly to work.
At the urging of her eighth grade English teacher, Hernandez applied to Lorenzo Walker Technical High School. Originally, she was interested in cosmetology, but her teacher encouraged her to look into nursing.
"Nursing requires patience and caring, and he saw that in me and thought it would be a good fit."
Then in 2012, everything changed. The U.S. Department of Homeland Security announced the Deferred Action for Childhood Arrivals (DACA) program, allowing some people who arrived in the United States as children to apply for deferred action every two years and also make them eligible for work authorization.
"DACA meant I could go to college," Hernandez said.
While at Lorenzo Walker Technical High School, Hernandez earned her Certified Nursing Assistant (CNA), and though she had the opportunity to sit for her Licensed Practical Nursing (LPN) exam, she decided to continue on to earn her degree.
"I knew I wasn't ready just yet to sit for the licensing exam or make the commitment," she said.
She applied for DACA status and began exploring colleges. Ultimately, Florida SouthWestern State College (FSW) fit everything she was looking for.
"The classes are small, and FSW's faculty want you to succeed and they are willing to help," she said. "It's not as intimidating as some of the larger universities."
As a DACA student, Hernandez is not eligible for federal financial aid, and she pays for school on her own.
"FSW is affordable," she said. "My dad helps me with some of the costs, and I have to work part-time, but the Tuition Installment Plan (TIP) at FSW really helps make paying for my tuition manageable."
To pay for her tuition, Hernandez applied for a work permit, and FSW helped her find a job on the Collier Campus working as a student assistant at the reception desk, answering student questions and providing college information to visitors. A workforce training program through CareerSource also helps her with the costs associated with earning her nursing degree.
But Hernandez also found something even greater at FSW. Acceptance.
"It's scary to tell people about your immigration status," Hernandez said. "At first, I was terrified to tell anyone I was a dreamer, but at FSW, I never felt judged. FSW accepts you like family."
Hernandez earned her Associate in Arts degree in 2018, and the skills and knowledge she developed while working as a student assistant at the reception desk gave her the confidence she needed to apply for a part-time, professional position in FSW's admissions office. She got the job, and now she assists other students finding their way through their first college steps.
"As a first-generation college student I didn't have the knowledge or guidance about college that many students have from their families," Hernandez said. "Through my experience, I can now help guide other students and my younger siblings' on their path to college."
Hernandez has to reapply for her DACA status every two years.
"It's expensive and stressful because you never know if they are going to accept your application, but it is worth it."
Hernandez will graduate from the Associate in Science in Nursing (ASN) degree program at FSW this December. She plans to continue on to earn her Bachelors in Science in Nursing (BSN) degree at FSW, and then possibly continue on to her earn master's degree.
"My parents always told me my education comes first, no matter the cost," she said. "They came to the U.S. to give me a better future. My goal is to continue to make them proud."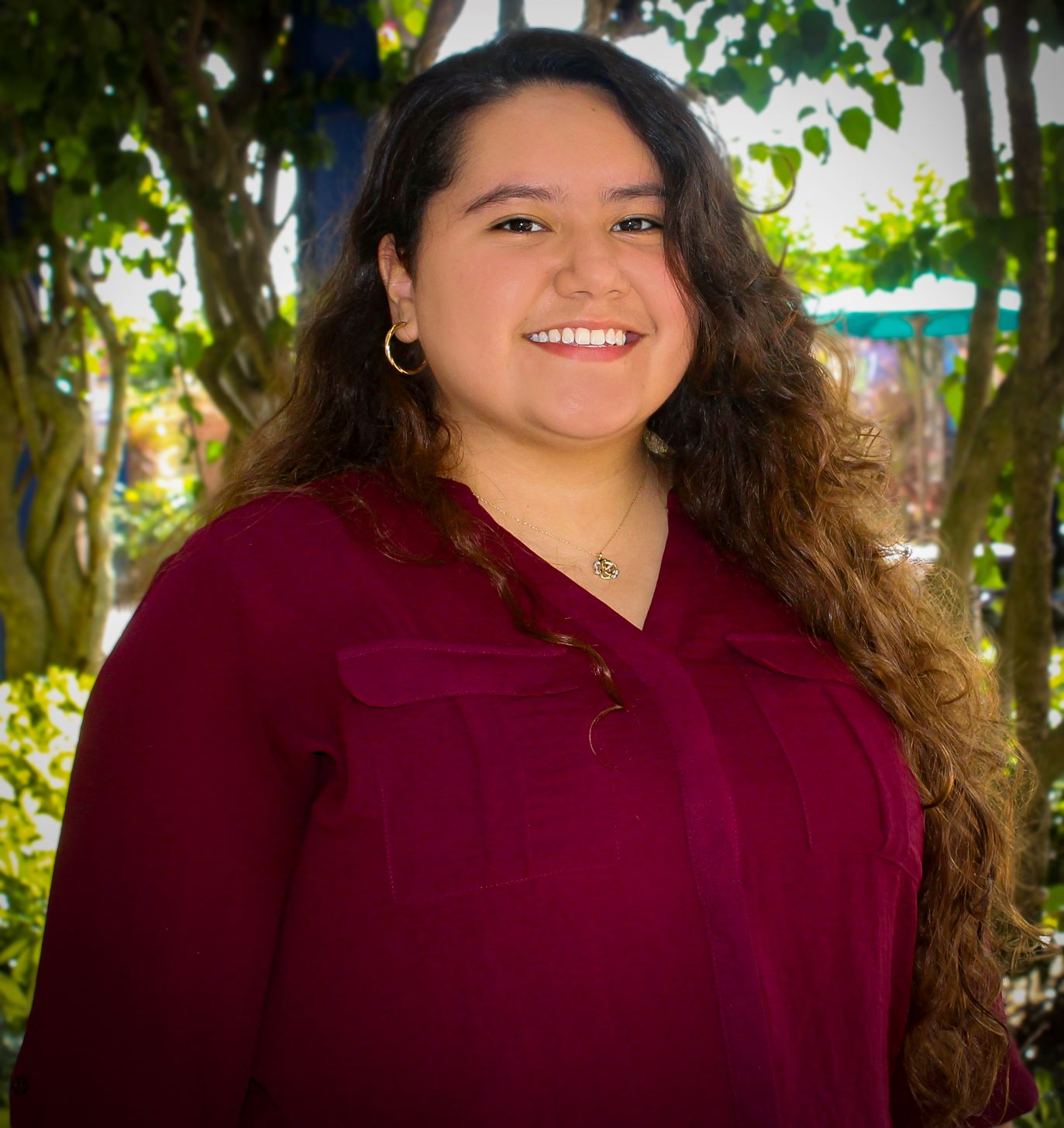 Tony Peterson
Lucky for most of us, the paths we travel are not set in stone. When FSW alumnus Tony Peterson decided to change his path, he had no idea how far it would lead him.
Originally a high school dropout, Tony decided to earn his GED after a gunshot wound dramatically altered his life.
"I wasn't doing right," said Tony. "I needed to choose a different path than the one that led me to this chair."
Tony found the support he needed at then Edison State College to continue on to earn his college degree.
"It was a great campus and atmosphere," he said. "The campus is small and that helped make the transition to college easier for me."
"The people were also a great help," he said. "Angie Hartsell in Adaptive Services is so passionate about what she does. She sticks up for her office and her clients. She will get you anything you want, but she makes sure you do the work for it. She doesn't give handouts to anybody. Dr. Christine Davis helped me when I struggled with conflicts. She took the time to listen to me and to understand me. From the cafeteria staff, to the professors, to the administration, the people just made it so easy to be here."
Tony graduated debt-free from FSW (Edison) in 2012 with his associates degree and a 3.9 GPA.
"I was a high school dropout, and when they handed me my honors cord at graduation, I never thought I would ever have something like that," he said.
Tony went on to continue his education, and in December 2018, he graduated with his master's degree in social work from Barry University.
"I never thought going back for my GED would lead to a graduate degree, but when I start something, I want to complete it."
Tony is now on the job hunt and hopes to one day open his own practice. He offered some advice to new and current FSW students.
"Become involved in activities and get to know the campus," Tony said. "Learn about the resources the college has to offer, whether educational, administrative or career-based, and use them to the fullest. And most importantly, come in with great expectations, set your bar high, stick to it, and enjoy the ride." #FSWSuccess #FSWAlumni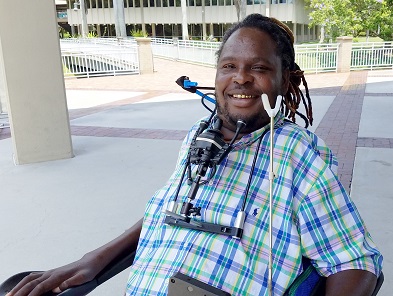 Tapanga Garrett
They say there are two types of people in life, dreamers and doers. FSW student Tapanga Garrett is definitely a doer.
"I have always made up stories in my head," Garrett said, but it was after reading a short story her mom wrote that Garrett felt confident to put a story onto paper.
With her mom's encouragement, Garrett wanted to expand the short story into a full-length book. After more than a year of writing, she had completed the 300-page manuscript and titled it "Unnaturals."
"Unnaturals" tells the story of private detective, Izaboe Campos, who is on the hunt to find a murderer. The book has all the makings of a fun, fantasy tale including vampires, werewolves and gargoyles. Izaboe even has a supernatural secret of her own.
But then came the hard part…how to get the book published. The answer came through Garrett's Cornerstone Experience class at the FSW Charlotte Campus.
Cornerstone Professor April Ring invited self-published author, S.E. Smith, to speak to the class about careers in writing, and following that class, Garrett reached out to Smith.
"She showed me how to get started and helped me through the steps to publish on my own," Garrett said. "If it wasn't for that Cornerstone class, I would still be waiting for an agent."
"Unnaturals" published on Amazon in January, and Garrett is now working on the sequel.
Garrett has some advice for anyone who is hesitant to give their dream a chance.
"You might as well try," she said. "The worst thing that can happen is that it doesn't work out, but it's better to try and fail than to not try and always wonder what would have happened if you had."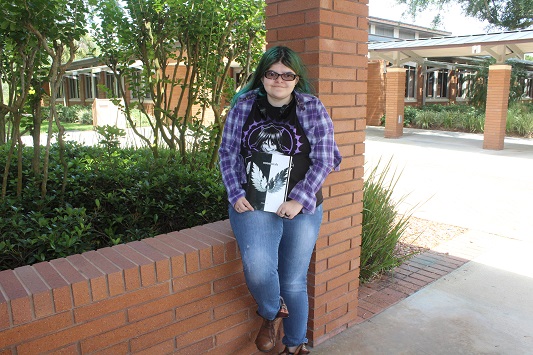 Rafael Columbie Sees Success through Honors Scholar Program
My name is Rafael Alejandro Columbie, I am a 23-year-old husband and freshly minted father who, after dropping out of college at the age of 18, got the crazy idea to go back to school to become a neurosurgeon; as if this would somehow be easier with a child, a wife, and a mortgage. My passion for healing others was awakened just over a year ago when I lost my right leg in a motorcycle accident. That night I surely thought my life would come to an end, but by some odd twist of fate, the gentleman who had struck me with his vehicle was a doctor. With his help and that of the group of medical professionals that saw to my wounds, I was able to continue my young life. While I was in the ICU there were two other young men (both approximately twenty years of age) who had also been brought in for motorcycle accidents; one lost both his legs, while the other lost his life. I consider myself fortunate. Thus, from that moment on, I felt compelled to devote my life to save that of others; for the memory of those of us who weren't so fortunate. But, sobering tragedy aside, I devote what time I have left outside of school and my family to martial arts, Jiu-Jitsu in particular; there is something oddly satisfying about besting my fellow two-legged humans in hand to hand combat (on the rare occasions that I do).
Has your involvement in the FSW Honors Scholar Program (HSP) made a difference in your overall educational experience here?
Although I was apprehensive of joining HSP at first, by virtue of my age (silly I know, I am only 23), it has enriched my educational experience far beyond my greatest hopes. FSW's HSP is a stellar example of excellence and passion, the likes of which I had not before seen. After only a few months into my first semester as an FSW honors student, I was granted the opportunity to present at the Florida Collegiate Honors Conference, all graciously sponsored by the college. The experience was enriching beyond any-thing I could've hoped for. I, a former college dropout, now have a 4.00 GPA and a reignited passion for education and for what the future may hold. A future that seems exceedingly bright may I add, because only a few days ago I received a letter in the mail from Columbia University, inviting me to apply. This could not have been possible had it not been for the resources, support, and genuine encouragement so generously provided by FSW's HSP.
To all FSW students, keep moving forward. See your educational endeavors through to the end, and be the change that you want to see in the world.
Has your involvement in HSP made a difference in your overall educational experience here?
HSP has been extremely beneficial to my education. It gave me a second chance at taking my education seriously, something I didn't do in high school. It gave me opportunities like going to conferences, smaller classes, and better access to grants and scholarships. Most importantly, HSP has given me confidence that I could go anywhere after FSW and every possibly is within reach.
What advice would you offer to all FSW students?
School provides more than homework and diplomas and more than academic resources. The chance to network on a college campus is better than most other places; you can easily find someone that knows something you don't, someone that's further along with the career you both share, and definitely potential friends.
Luis Munoz
BAS, Supervision and Management - 2018
FSW graduate Luis Munoz redefines the idea that our graduates fly high. A third generation Human Cannonball, he earned a Bachelor of Applied Science (BAS) in Supervision and Management in 2018. Luis completed his degree online while living in Spain and managing his own business.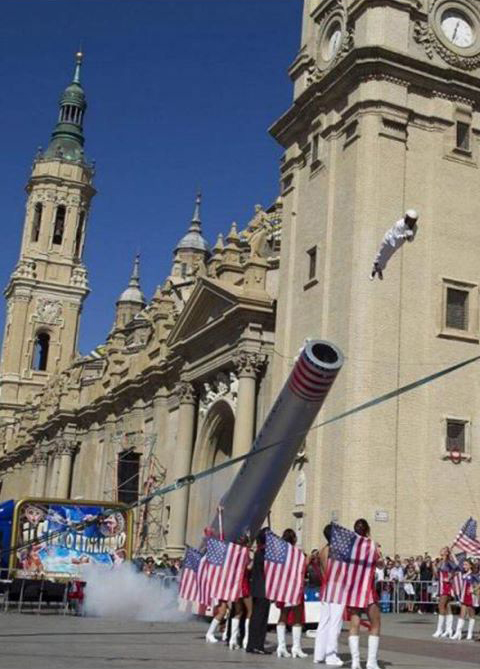 Faculty & Staff Success Stories
FSW Receives Recognition at AFC Conference
Members of FSW's chapter of the Association of Florida Colleges (AFC) recently participated and received statewide recognition during the AFC 70th Annual Conference in November. AFC is the professional association of Florida's 28 public member institutions of the Florida College System. AFC actively promotes, represents, and supports members and institutions as they provide their students and the citizens of Florida with a world-class college system.
During the conference, FSW was presented the Florida College System Chancellor's Best Practice/Promising Practice Award for the Collegiate Institute (CI) at Clewiston High School. The Chancellor's Best Practice Awards provide Florida College System institutions the opportunity to promote exemplary initiatives to statewide and national audiences. The Division of Florida Colleges annually recognizes colleges in the Florida College System that have established innovative practices or have enhanced existing programs.
FSW student success advisors Maisy Adams, FSW chapter president, and Tim Maricle, FSW chapter president-elect, earned Certified College Professional (CCP) designations following their participation in the CCP program. The CCP program provides a statewide overview of the Florida College System (FCS), enhances individual job performance, builds future leaders, and designates college professionals who demonstrate the knowledge essential to the practice of higher education. Designees participate in 100 hours of professional development and show competency in four core content areas: leadership, legislative process and advocacy, the Florida College System, and building community and customer service. Additionally, Adams was named director-elect for AFC Region IV and Region IV representative for the Student Development Commission.
FSW also received Awards of Excellence from the AFC Communications and Marketing Commission. FSW's 2018-19 viewbook placed second in the Viewbook/Recruitment Piece category. The article "From a Dream to a Degree," was awarded third place in the Article/Pitch Resulting in Publication category.
Pam Macander, senior staff assistant, Hendry/Glades Curtis Center, was awarded the chapter Unsung Hero Award.
Amy English, academic support specialist at the Hendry/Glades Curtis Center, presented the breakout session "Bridging the Gap: Creating Pathways to College for Rural Students," which focused on the challenges rural, college-seeking students face and FSW's Curtis Pathways Program available to students in LaBelle.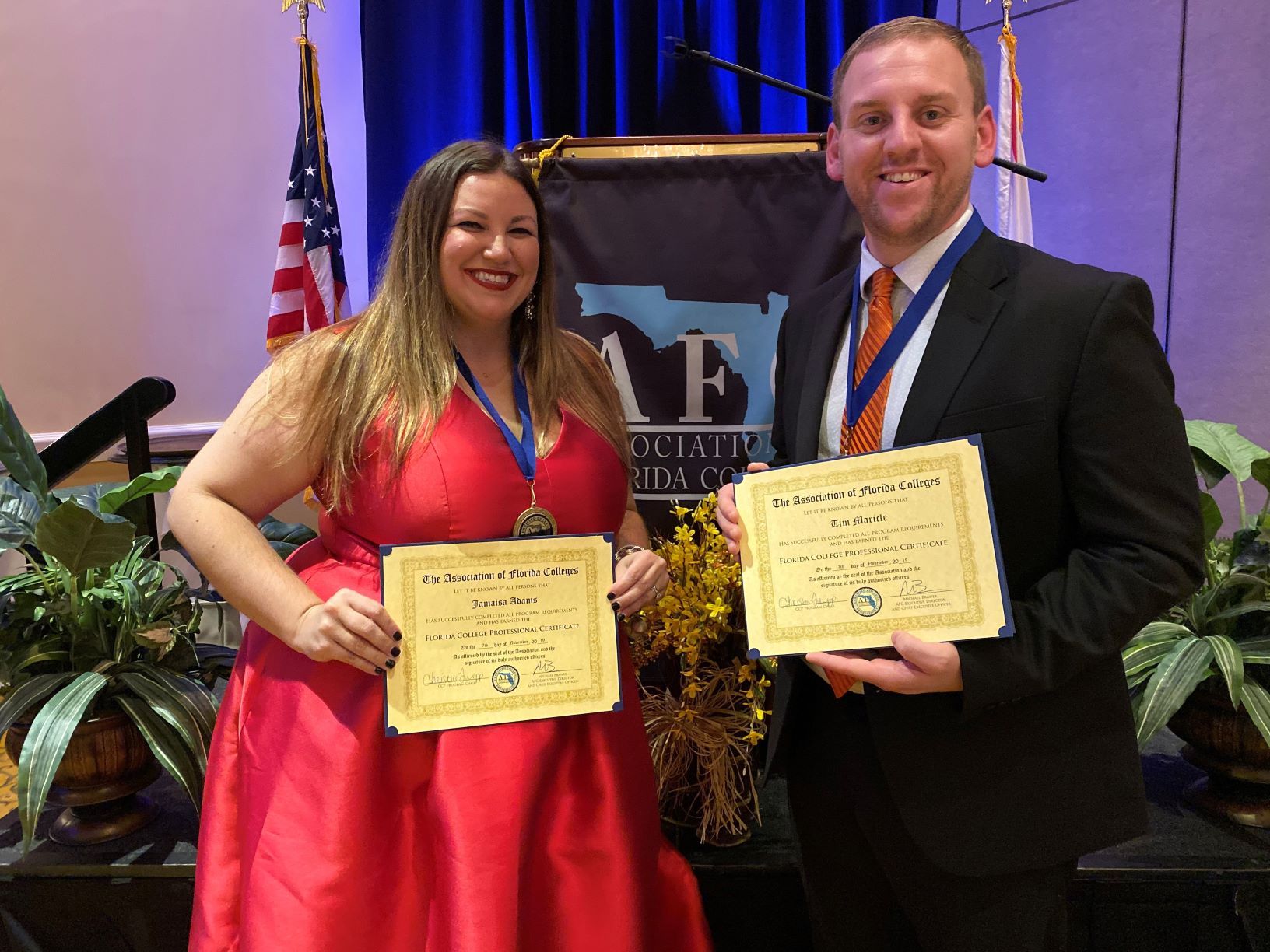 FSW Author's Haitian Folktales Earn New Translations
The population of Southwest Florida is growing more diverse and it's often challenging for children in a non-English speaking household to find reading material in their native language. According to the Lee County School District, nearly 40,000 students live in a home where English is not the primary language and that amount is likely the same in neighboring counties.
Since 2010 Dr. Mireille Lauture, a Student Success Advisor at FSW College, has been writing children's books based on Haitian folktales passed on by her mother and they've been available in English and Haitian Creole, but this year they've being translated into both French and Spanish. Each of her books offers the translation of two languages paired alongside another.
Teachers of English Language Learner (ELL) students often use books in a student's native language as a side-by-side comparison to learn the structures of English. Dr. Lauture, who travels across Florida and Haiti reading to elementary school students, said having multiple translations helps students learn a new language.
"It's always pleasing when you hear something in your own language," she said. "It's authentic and you quickly connect with it. My ability to speak four languages serves me well when reading my bilingual books to children from those cultures."
Dr. Lauture added that many local teachers have expressed interest in her books to build their classroom libraries and offer ELL students books that they can relate to personally.
Her travels to Haiti have involved reading and distributing her books to the École Hervé Romain School in Port-au-Prince, the Children of Hope in Saintard, and Grace International as part of the JetBlue Airways' humanitarian trip in 2014. She also frequently ships books and school supplies from the United States to Haiti.
Copies of Dr. Lauture's books are available online at www.amazon.com. They are written for children between the ages of 4-10 and help spread classic folktales to a new generation.
Jackie Beard
FSW Student Engagement Coordinator Jackie Beard was recently awarded the 2019 FCSSGA Region 4 Advisor of the Year award and the Bob Graham Distinguished Service Award for SGA Advisors.
The Advisor of the Year Award is given to a nominated advisor who has provided distinguished service to their Campus Student Government. The Bob Graham Distinguished Service Award is given to a nominated advisor for outstanding support of their campus SGA.
"There were key teachers, advisors, and staff members that helped me throughout my educational journey," Beard said. "Their compassion and willingness caused me to develop a strong desire to help students once I became an educator. I could not repay them for the support and resources they provided, but I promised them to help every student I could for the rest of my life. As a SGA advisor, it is part of my commitment and dedication to help students reach their personal and professional goals. Because of individuals that supported and motivated me, I will forever be compassionate and strive to make a difference in student lives. When I retire, I want to look back and say I made a difference and have lived a life fulfilling my purpose."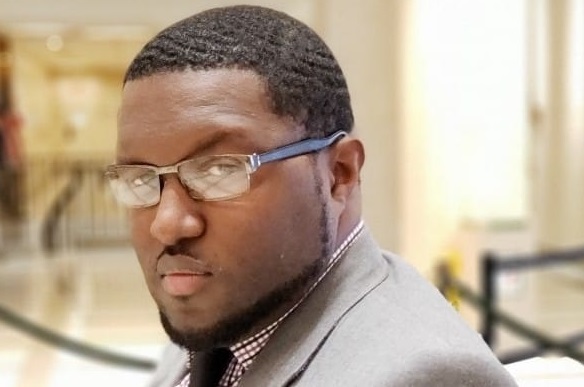 FSW Law Professor Pens Children's Book
Law and college success professor Sandi Towers has taught at Florida SouthWestern State College (FSW) for years using textbooks she's written on the legal ins and outs of real estate, media, and the hospitality industry, but this year she published her first children's book, "Sandi and the Ladybug."
From Prolance Book Publishing in California, the book follows Walter the ladybug as he searches for his home back at the farm.
"This is based on a true story, when I found a ladybug on some lettuce I brought home," said Towers. "I named the ladybug Walter because it's a strong name and to point out the fact that there are boy ladybugs."
For this project Towers worked with Teresa Abboud, a Georgia-based illustrator and 2D animator, to bring Walter to life as well as the characters of Sandi and her father. Towers said the process of writing the book took 10 years and five drafts.
"This project was a whole decade of my life. The rule of thumb is that children's books need to be under 1,000 words and 'Sandi and the Ladybug' is at 480. The story has two narrative arcs, which are resolved by the end, and it has teachable moments for children between the ages of 2-7."
Because teaching is her passion, on June 4 she'll be bringing "Sandi and the Ladybug" into FSW children's literature classes taught by Dr. Caroline Seefchak in the School of Education. Towers wants to work with students earning their degrees in elementary education so they can teach the youngest generation that all creatures big or small, or even as small as a ladybug, should be honored and cherished.
As part of this mission to cherish all living things, Towers will be presenting her book at the Calusa Nature Center & Planetarium's Earth Day celebration on Saturday, April 27, as well as on May 4 for "School's Out Day" and June 1 for "Foster Kid's Day." The book is for sale at the FSW Buc Store, Calusa Nature Center, and Barnes & Noble in Fort Myers Market Square. She'll be hosting multiple "Storytimes" this summer at Barnes & Noble.
"Sandi and the Ladybug" is also available for sale online at Barnes & Noble, Wal-Mart, Amazon, and Books-A-Million. Towers said she's also in the process of publishing her second children's book with Prolance Book Publishing, "The Adventures of Dusty the Tortoise and Tickles the Camel," another true story based on her pet tortoise Dusty.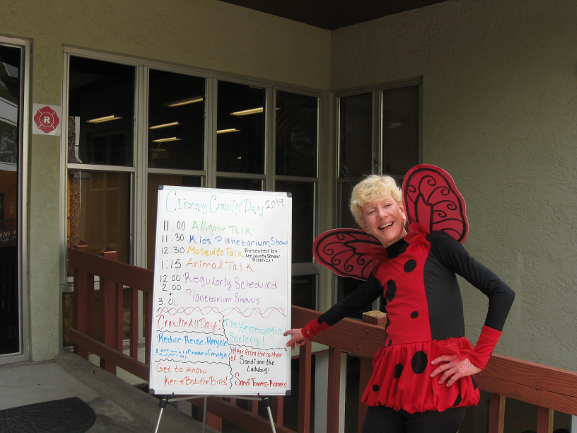 Psychology and Revolution
When FSW Political Science Professor Dr. Bruno Baltodano was a nine-year-old boy, his father, Richard Vargas, was killed in the Nicaraguan Revolution. A picture of his father hangs prominently in his office. The events surrounding nine-year-old Baltodano would go on to shape his future.
His history with Nicaragua and the lack of information on female fighters in the Nicaraguan Revolution led to a book collaboration with his coauthors, Martín Meráz García and Martha L. Cottam, titled: "The Role of Female Combatants in the Nicaraguan Revolution and Counter Revolutionary War," published in 2019 by Rutledge Books.
This book is an exploratory study based on 85 first-hand accounts of female ex-combatants who fought in the Nicaraguan Revolution and Counter Revolutionary War from the 1960s to the 1980s. Dr. Baltodano spent more than a year and several trips to Nicaragua and the Atlantic Coast gathering the necessary data for his work. Drawing from political psychology, "The Role of Female Combatants in the Nicaraguan Revolution and Counter Revolutionary War" explores the sacrifices women fighters made, their ideology, gender stereotypes and images, and ethnic, racial and national identities.
When asked what is the most important thing he hopes people understand about his book, Dr. Baltodano explained, "Gender is not a monolith. Women and men are more alike than they think, and the desire to make change goes beyond gender."
Dr. Baltodano teaches classes on international relations, terrorism and political violence, comparative politics, and American government.
He has a doctorate and a master's degree in political science from Washington State University and a bachelor's degree in government from Eastern Washington University. His academic research centers on insurgencies with a central focus on indigenous land rights and political violence in Nicaragua.
Dr. Baltodano's publications include: "The Role of Female Combatants in the Nicaraguan Revolutions and Counter Revolutionary War," published in 2019 by Rutledge Books; contributing writer in "Confronting Al-Qaeda: The Sunni Awakening and American Strategy in Al-Anbar," published in 2016 by Rowman & Littlefiled; a chapter in "Trends in Policing: Interviews with Police leaders Across the Globe," a book edited by Otwin Marenin; a chapter in "The Israeli-Palestinian Conflict: War Coverage and Peace Journalism," a book edited by Wilhem Kempf; as well as journal articles appearing in Conflict and Communication and Latin American Policy.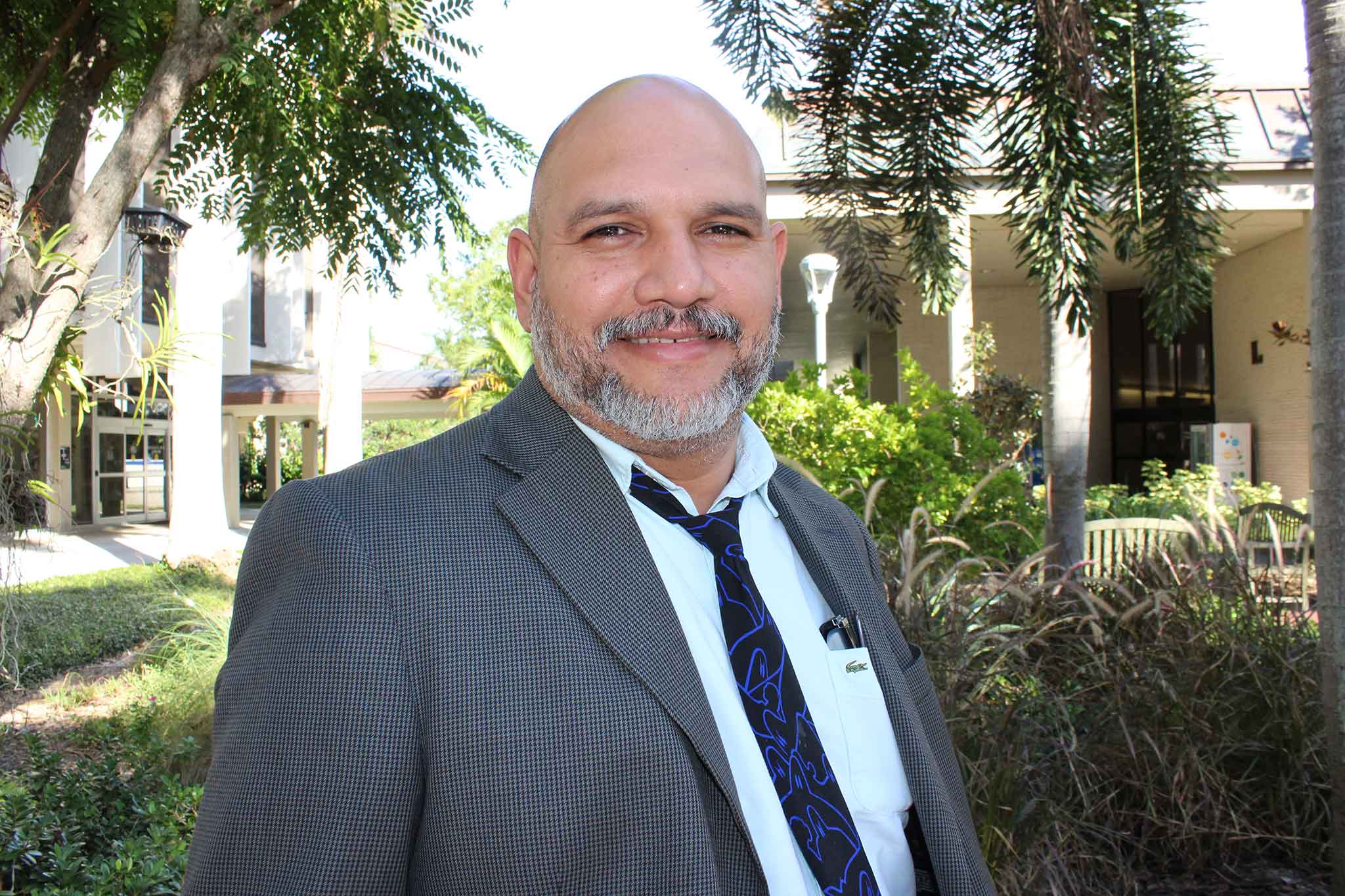 Wendie Thompson
NISOD Award Winner
When Wendie Thompson was announced as the 2019 NISOD Staff Excellence Award winner during FSW's annual President's State of the College event, she wasn't sure they were talking about her.
"I couldn't believe my name was called," Thompson said. "I was in shock and just sat for a second making sure it was me."
Thompson is an administrative assistant for FSW's School of Arts, Humanities and Social Sciences and the recipient of the 2019 National Institute for Staff and Organizational Development (NISOD) Staff Excellence Award.
Every year, NISOD honors college staff and administrators who have demonstrated an outstanding commitment and contribution to students and colleagues at their institution. Thompson plans to represent FSW at the annual NISOD conference in Austin, TX, in May.
Thompson has worked at FSW for 10 years, and the nomination letters her fellow employees wrote for her prove why she is so deserving.
"Wendie allows the faculty, the rest of the staff across the college and me to help our students to be successful because she does her job so well."
"Wendie has an astounding capacity for, and tolerance of, the hundreds of interruptions that are endemic to the office of a dean. She greets each new distraction with good cheer and calm attention to detail. She is rarely allowed a moment of peace, and yet through this maelstrom, manages to accomplish an astounding volume of work each day. Contracts, scheduling, flummoxed students, errant faculty and desperate deans are all taken in turn and treated with kindness, competence and grace."
"Wendie takes time to find the best method for completing all tasks. I have asked her on numerous occasions to provide training for my team. We hired a new, part-time operations associate who needed to get up and running during a busy time of year, and Wendie graciously offered to sit with her and provide any assistance she needed. Her contributions to the college are invaluable!"
Thompson credits her dad for instilling in her to go above and beyond when helping people.
"What we do here is important," Thompson said. "I enjoy coming to work every morning and working with the people here. Everyone really cares about our students and our programs. I was humbled to be recognized, and it's amazing to know that people appreciate what I do."