Paper Clips Project
---
Paper Clips Project

Whitwell Middle School, Tennessee
In 1998, teachers at Whitwell Middle School in Tennessee began a Holocaust education class. When the students struggled with the concept and scale of the Holocaust, they decided to collect six million paper clips - one for each Jew who perished during the Holocaust. The Paper Clips Project burgeoned, garnering international attention. In 2001, Whitwell Middle School dedicated a Children's Holocaust Memorial, featuring an authentic German boxcar filled with a portion of the more than thirty million paper clips collected. The documentary film, "Paper Clips," released in 2004, tells the inspirational story. To learn more about the Paper Clips Project and the award-winning documentary film, go to the website of the non-profit organization, One Clip at a Time, an outgrowth of the Paper Clips Project.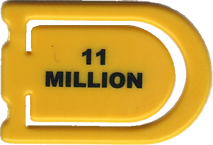 Faculty, staff, and students at Florida SouthWestern State College wear yellow paper clips during Holocaust Memorial Week to honor all victims of discrimination, prejudice, and hate.
The Florida SouthWestern State College yellow paper clip was presented to Linda Hooper, Principal, Whitwell Middle School, Tennessee.

Whitwell Middle School created the Paper Clips Project to honor the memory of the victims of the Holocaust.