FSW Purchasing Card Program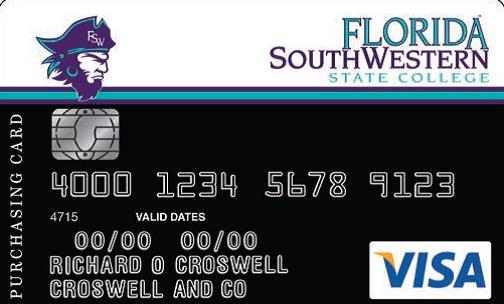 Florida SouthWestern State College is pleased to offer the Purchasing Card Program to faculty and staff.
On this page you will find details about the program, how to apply, and more including:
Introduction
Obtaining a P-Card
Policy & Procedures
Forms
FAQ
P-Card Training
Contact Information
Aida Mora
Purchasing Card Specialist
239-433-6946 (or x16946)

Lisa Tudor
Director, Procurement Services
239-489-9350 (or x11350)

Procurement Services
Vendor Information

Tax Exemption Certificate
Technical Support
Introduction
Welcome to the Florida SouthWestern State College (FSW) Purchasing Card Program (P-Card). This program is designed to provide a more efficient means of making routine purchases and payments. P-Cards, afford cardholders the convenience of purchasing directly from merchants without having to go through the purchase order, check request or reimbursement process. Using a P-Card streamlines the purchasing process, saving time and reducing paperwork. The P-Card is intended to complement the purchase order process and not replace it.
FSW utilizes the Visa Network secured through Bank of America to provide the P-Card Program. In addition, all charges are reviewed, reconciled, and paid through the P-Card module of Banner Finance. P-Card transaction activity is updated daily in Banner.
A P-Card may be presented to any merchant who accepts Visa, and after the purchase is made, your Reconciler will utilize the P-Card module of Banner in order to assign P-Card charges to the proper College funding source. Each department's budget is allocated by INDEX codes. An INDEX is connected by a FOAPAL. You will need to become familiar with the Index and Account Code associated with your P-Card(s) to ensure purchases are being paid for with proper funds and expensed to the correct account code. A FOAPAL is the accounting string that is associated with a department's funding source; it is an acronym for "Fund, Organization, Account, Program, Activity, and Location".
Success of the P-Card Program relies on the cooperation and professionalism of all personnel associated with it. As a Cardholder, you are expected to follow appropriate state laws and guidelines, as well as use good and reasonable judgment when making P-Card purchases. It is important to familiarize yourself with the information enclosed in this manual before signing the Cardholder Agreement Form (BO-057) and beginning to make purchases with your P-Card.