Nursing, BS
---
The Bachelor of Science in Nursing (BSN) is a rigorous online RN to BSN degree completion program for Registered Nurses (RNs). Applicants should carefully consider if an online Program best meets their learning style. Enrollment is limited based on the number of available seats each semester. Applicants must complete all General Education courses, RN to BSN Program Specific courses, and the foreign language competency before applying. Due to the current regulations governing online learning, the RN to BSN Program is not able to admit out-of-state students.
The Program provides a career ladder from the AS degree to the BS degree for RNs who have earned a diploma or Associate of Science Degree in Nursing. Coursework will continue to build upon the registered nursing curriculum foundation. The Program offers a diverse population of students with innovative educational experiences and opportunities to meet the health care needs of the community they serve. Through the educational process, the student will be able to internalize the values, traditions, and obligations of the professional nurse and gain a greater professional perspective and increased critical thinking and problem-solving skills.
The BSN Program prepares RNs for career promotions and advancement in nursing to include positions in academia, community health, management, and leadership. It also provides a foundation for advancement to graduate level education programs. Current occupational employment and wage data for Registered Nurses is published by the United States Department of Labor's Bureau of Labor Statistics at http://www.bls.gov/ooh/healthcare/registered-nurses.htm
Accreditation: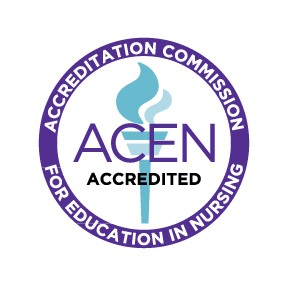 The Florida SouthWestern State College RN to BSN Program is accredited by the:
Accreditation Commission for Education in Nursing, Inc. (ACEN)
3343 Peachtree Road NE, Suite 850
Atlanta, Georgia 30326
Telephone: 404-975-5000
http://acenursing.org/
Student Achievement Outcome Data:
Student achievement outcome data provides evidence to demonstrate the extent to which FSW Nursing graduates are adequately prepared. This information is updated annually and made publicly accessible.
Program Highlights:
The RN to BSN Program includes courses in professional issues, informatics, research, advanced health assessment, pathophysiology, pharmacology, multicultural nursing, leadership, community health, and a portfolio capstone. Courses are taken online to accommodate various schedules. Applicants should consider if an online Program best meets their learning style. Students may choose a full-time course load (12 or more hours) or a part-time course load (less than 12 hours).
In the community health and leadership courses, students will have practicum experiences that will prepare them to apply theoretical knowledge in professional nursing practice.
Special Notices
NUR 4827L Leadership in Nursing Practicum: students are responsible for collaborating with the RN to BSN Program director to secure an appropriate clinical agency if they reside outside of FSW service areas: Charlotte, Collier, Glades, Hendry, and Lee counties.
Please note that it may be necessary to complete the practicum experience in the Southwest Florida area if a clinical agreement cannot be secured with the student's preferred host agency. Clinical agreements for Leadership in Nursing Practicum for sites outside Florida are not possible.
Applicants who are admitted to the BSN Program will have their application for admission canceled if they do not register for a course by the drop/add deadline within that same semester. Students will need to update their term of entry to the Program during the next application cycle. Updating a term of entry on an admissions application is not a guarantee of admission to the Program.
Admission Requirements:
Complete all general education, common prerequisites (electives), core courses, and the foreign language competency requirement before applying to the program.
After fulfilling the requirements in number one above, complete an online College admissions application. Applications which have not satisfied the requirements in number one will not be considered.
Request all official transcripts from previously attended colleges or universities to be sent to the Office of the Registrar. Note that a cumulative grade point average of 2.0 on a 4.0 scale in all college level coursework is required for admission.
Submit a copy of a valid, active, unencumbered RN license from the state in which the applicant is practicing. Note that the license must remain current throughout a student's enrollment in the RN to BSN program.
Applicants must have earned an Associate Degree in Nursing from an institution regionally accredited by a U.S. Department of Education agency and from a Nursing Program that is accredited by the Accreditation Commission for Education in Nursing (formerly NLNAC). Graduate of diploma nursing programs, accredited by ACEN, will also be considered for admission.
Prior to enrolling in practicum courses, students must satisfactorily complete a college approved criminal records check and drug test. This expense is the student's responsibility. Failure to complete this requirement will result in a hold on student registration. Students must comply with the Florida Board of Nursing requirements for reporting criminal violations to both the Board of Nursing and the RN to BSN program as specified in the Florida Code and Regulations.
Foreign Language Competency Requirement
Two years of the same High School Foreign Language, or
Documented foreign language proficiency through testing, or
Two semesters of the same College Level Foreign Language (Level II proficiency), or
Level II proficiency - this criterion occurs when a student has completed the second course of a sequence of college foreign language without completing the first course. For example, if a student has successfully completed a college-level Spanish II but not Spanish I, then the student has met the Foreign Language Competency requirement.
BSN Program Applicants with Associate or Baccalaureate Degrees:
Students who transfer to Florida SouthWestern State College with a previous associate of arts degree from a Florida college or baccalaureate degree from a regionally accredited university are considered to have met the General Education Core and Elective coursework (60 credit hours) of the degree.
Transient Student Enrollment in Upper Division Coursework:
Transient students are currently enrolled college students who register for courses at another institution on a temporary basis (e.g. university students attending summer semester at a state college). Transient students must obtain prior approval to enroll in Upper Division Nursing Core coursework. Students initiate this process using Florida Shines at www.floridashines.org.
Priority Application Deadlines*
Fall Semester Start – Application due by August 1
Spring Semester Start – Application due by December 1
Summer Semester Start – Application due by April 1
*deadlines may be extended if seats remain unfilled to capacity by application deadline
Graduation Requirements
Complete 120 credit hours as outlined in the RN to BSN Program of Study.
Satisfy residency requirements by completing a minimum of 30 credit hours of Upper Division Nursing Core coursework at Florida SouthWestern State College.
Earn a grade of "C" or better in each RN to BSN Upper Division and Program Specific course.

An "attempt" is defined as a course registration in effect at the end of the drop/add period.
A student who fails or withdraws from a nursing course will be permitted to re-take the nursing course only once and on a space-available basis.
Failure or withdrawal in any second nursing course will result in dismissal from the Program.

Earn a cumulative grade point average in the Program of 2.0 or higher.
Students must indicate their intention to attend commencement ceremony, by completing the Commencement Form by the published deadline.
At the completion of the BSN Program, the graduate will be able to:
Synthesize knowledge from nursing and the physical, behavioral, psychological and social sciences, and the humanities in the practice of professional nursing.
Integrate global health and health care, its relevant issues and policies as they relate to professional nursing practice.
Evaluate research in the exploration of the spectrum of health within the framework of evidence-based practice.
Synthesize standards of professional practice and care.
Articulate the role of the professional nurse within inter-professional teams.
Analyze current and changing health care information technologies and systems.
Summarize the components of leadership and followership in professional nursing practice.
Interpret the social responsibility of the nursing profession in the development and implementation of health care policy.
Program Contact Information
Dr. Deborah Selman, DNP, RN
Interim Associate Dean, Nursing Programs
Email
Phone 239-489-9412
Bobby Holbrook, MSN, ARNP
Program Director ASN and BSN Programs
Email
Phone 239-489-9315
Christopher Renda
Nursing Support Specialist, Lee Campus
Email
Phone 239-489-9239
Wendy Morris
Instructional Assistant, Charlotte Campus
Email
Phone 941-637-5667
Edna Shields
Instructional Assistant, Collier Campus
Email
Phone 239-732-3748
Note: Some files on this page are in PDF format and may require you to download the appropriate viewer.