Logo Meaning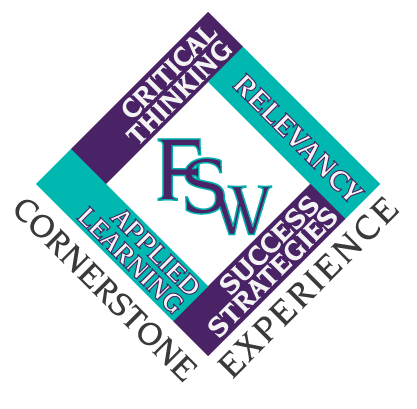 The Cornerstone Experience logo is recommended by the Quality Enhancement Plan (QEP) Committee based on a conceptual design by Florida SouthWestern State College student James Shears.
The DIAMOND shape symbolizes quality of instruction.
The interlocking BUILDING BLOCKS highlight the four theoretical constructs framing the Cornerstone Experience course.
Critical Thinking
Relevancy
Applied Learning
Success Strategies
The words CORNERSTONE EXPERIENCE cradle the bottom of the logo to signify the supportive foundation that the course provides.
The COLORS selected for Florida SouthWestern State College are purple and aqua. Purple is symbolic of royalty, wisdom, enlightenment and creativity. Aqua is universally known for its soothing effect, and symbolizes youth, health and hope.