Office of ADAptive Services

Mission
At Florida SouthWestern State College, the Office of ADAptive Services' (OAS) goal is to assist students achieve educational success by providing services that empower students while working within the limitations of documented disabilities. FSW proudly accepts our legal obligation with the Americans with Disability Act and are pleased to share the responsibility in providing equal access and equal opportunity to college sponsored activities and educational programs. If you have a documented disability - permanent or temporary, whether physical, mental or sensory - you may be eligible for reasonable accommodations.
Once a student completes the self-identification process, it is the mission of OAS to focus on the abilities of each individual while empowering the student with the tools necessary to become self-assured and effective learners, strong problem solvers and successful members of our academic community. OAS, along with the Equity Officer, is responsible for coordinating college-wide compliance to equal access, equal opportunity for students who may need assistance. Be empowered today...self-identify!
Programs for Students with Disabilities
At Florida SouthWestern State College, the Office of ADAptive Services is part of Student Success Services, and our goal is to help students succeed. If you have a documented disability — permanent or temporary, whether physical, mental or sensory — we can help you receive reasonable accommodations.
Policy
It is the policy of Florida SouthWestern State College that discrimination against qualified individuals with disabilities is prohibited. Pursuant to Titles I and II of the Americans with Disabilities Act (ADA) of 1990 and Section 504 of the Rehabilitation Act of 1973, the College provides equal employment and educational opportunities and reasonable accommodation for qualified individuals with disabilities.
Policy Guidelines
The College reaffirms the principle of Equal Access/Equal Opportunity regardless of race, creed, color, national origin, religion, sex, age, marital status, ethnicity, sexual orientation, marital status, pregnancy, genetic information, veteran's status and disability. The equal opportunity principle applies to otherwise qualified persons with disabilities with regard to employment, the delivery of educational programs and services and all other appropriate areas in which the College is involved.
The College assumes the Department of Labor's definition of an individual with a disability is "one who (1) has a physical or mental impairment which substantially limits one or more of such person's major life activities; (2) has a record of such impairment; or (3) is regarded as having such an impairment."
Florida SouthWestern State College understands that it must provide reasonable accommodation to the known physical or mental limitations of a qualified applicant, employee, and/or student with a disability, unless such accommodation would impose an undue hardship on the College.
Procedure
It is the obligation of the individual with a disability to request a reasonable accommodation. Enrolled students must submit any request for accommodations to the Program Office for Students with Disabilities on the appropriate campus for consideration. Individuals with a disability must provide recent documentation from a qualified, licensed professional that speaks to the specific disability and the requested accommodation. Requests for accommodations must be specific to the documented needs. Once a student has been established with the office, it is the student's responsibility to request accommodations each semester that he or she is enrolled.
The Program office will issue to the professors a memorandum verifying that the student is a registered participant of the Students with Disabilities Program and has provided the College with all required documentation. It is the student's responsibility to notify both the professor and the Program seventy two hours in advance of any accommodation involving tests or quizzes.
Accommodations may include, but are not limited to, isolated testing environments, up to double the amount of time on tests, sign language interpretation, oral testing, and the use of auxiliary aids.
Professors are encouraged to notify the Program office immediately should they have any questions or concerns regarding academic accommodations. Academic accommodations are not intended to fundamentally alter the nature of the course being taught. Additionally, academic adjustments are not appropriate if they supplement the very skills which the test is intended to measure. For example, permission to use an electronic spell-checker when required to write an essay on English literature might be an appropriate adjustment; however, the same accommodation would NOT be appropriate if the student is taking a spelling test.
Documentation
Students must provide documentation of disability in order to receive services from the Office of ADAptive Services. The documentation must be current and from a professional who has expertise in diagnosing the disability and assessing its ramifications. At a minimum, the documentation should include diagnosis, the disability's effect upon the students learning and/or academic endeavors, and recommendations for accommodation.
Insufficient Documentation
As stated previously, Individual Education Plans (IEPs) are not sufficient primary documentation. Letters of Accommodation from other institutions of higher learning may be accepted for transient students for the period of one semester, but these letters do not serve as documentation beyond that time.
Notes written on prescription pads are not sufficient. Statements must be on letterhead, and the author's contact information and title must be discernable.
Statements from the Social Security Administration are not sufficient documentation. Their determination of disability differs in purpose and scope, and it does not provide information specific to the disability in an academic setting; therefore, the previously noted documentation is still required.
Updated Documentation
A student may be asked to update documentation that exceeds five years of age or the staff suspects may no longer be representative of the student's current functioning or status. A one semester grace period within which to update previously accepted documentation may be granted, at the discretion of the college.
If a student wishes accommodations that are not reflected in the current documentation, or the student expresses that the current documentation does not reflect the extent of the disability, the college may request updated documentation to substantiate need.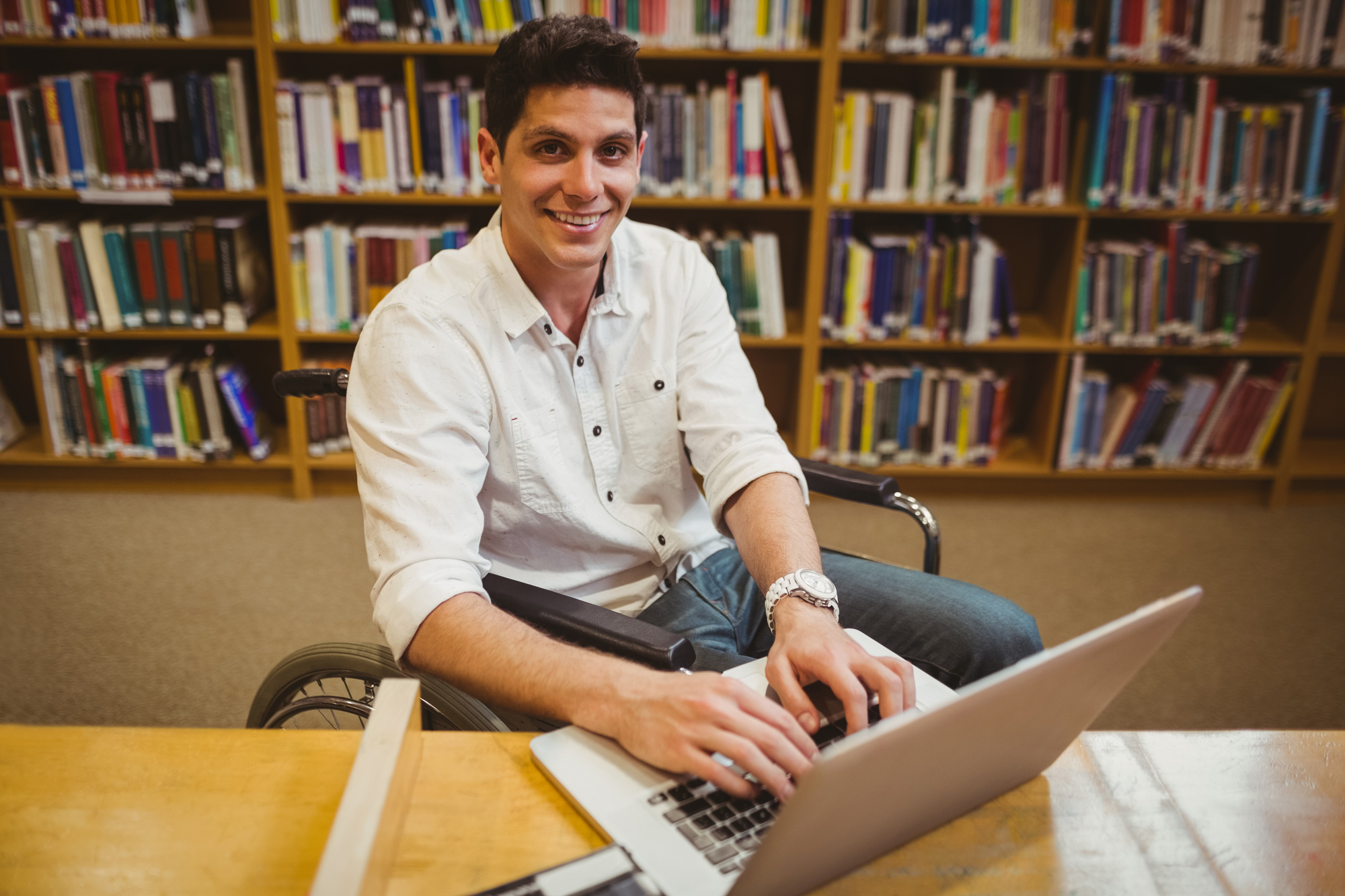 Learning Disabilities
Documentation must be a complete psychoeducational battery of tests. The assessment should include a relevant diagnosis and recommendations for academic accommodation. The date of testing must have been within the past three years if it was completed prior to the student's eighteenth birthday. Testing completed after the student's eighteenth birthday may be considered valid for five years. The testing must have been completed by a licensed psychologist, psychiatrist, neuro-psychiatrist, school psychologist, or psychometrist working under a licensed psychologist.
Common Tests that may be administered include:

Weschler Adult Intelligence Scale-Revised (WAIS-R)
Woodcock-Johnson Psychoeducational Battery-Revised (WJ-R)
Tests of Academic Skills (TASK)
Weschler Individual Achievement Test II
Wide Range Achievement Test, Fourth Edition (WRAT – 4)
Individual Education Plans (IEPs) ARE NOT acceptable forms of primary documentation. IEPs are plans which were structured and agreed to with that particular school at the time they were written. They are not binding agreements with Florida SouthWestern State College. On the other hand, IEPs may be helpful in determining the level of support and types of accommodations which were provided to a student in the past, and they may provide insight regarding successful support.
Psychiatric Disabilities
Documentation must include a diagnosis, a statement as to the effect of the disability upon the student's academic performance or barrier presented by the disability, and recommendations for accommodation. Documentation must be from a physician or specialist with the ability to assess the conditions. If the documentation is not from a psychiatrist, the current documentation must include a statement that the original diagnosis was made by a psychiatrist or be accompanied by such documentation. The physician's statement may include current necessary medications and any side effects that should be taken into account.
Please note that Attention Deficit Disorder (A.D.D.) / Attention Deficit Hyperactivity Disorder (A.D.H.D.) is considered a psychiatric disorder. Still, psychoeducational testing may be accepted in lieu of documentation from a physician for A.D.D./A.D.H.D. for the purposes of academic accommodations.
Documentation must be current, within the past three years. A list of medications and prescriptions do not serve as documentation of disability. This office cannot and will not derive a diagnosis from medication information.
Sensory Disabilities
Documentation must be from a health care specialist who has authority to diagnose the condition (i.e. physician, audiologist, etc.). Recommendations for accommodation may be provided from a rehabilitative specialist working in the related field. Documentation should be current; however, documentation of a permanent condition may certainly be older than five years.
Physical Disabilities
Documentation of physical disabilities must be from a physician specialist who can document the extent of the disability and the ramifications of having such a disability. Documentation must be current, no less than three years old; however, documentation of permanent conditions may certainly be older than five years. In many cases, it may be difficult for a layman to differentiate between a permanent and non-permanent condition, in which case current documentation will be required. For some physical disabilities, the office may determine that there is a perceived disability to such an extent that any reasonable person would judge the student to be disabled; these decisions would be made by the Office of ADAptive Services staff and would require that they complete a written statement to that effect and place it in the student's file.
Accommodations Provided
The Office of ADAptive Services provides the following accommodations and services. This list is not inclusive and there are other accommodations and services that can be offered based on individual need.
Extended time on testing session
Isolated testing environment
Books in alternative formats (PDF files, Word files, Audio files)
Assistive technologies (Dragon NaturallySpeaking, Kurzweil, ZoomText, JAWS)
Recording of lectures
ASL Interpreters & Transcription Services
Note takers & Scribes
Reader or Reading Software
The Coordinator of ADAptive Services determines what accommodations an individual will receive based on the documentation provided and conversations with the individual. Other accommodations are negotiable based on the individual's past experiences and benefits from such an accommodation.
It is the individual student's responsibility to notify the Coordinator of ADAptive Services if there are any problems with the services, such as mechanical problems, being serviced in the classroom, etc. It is not the responsibility of the Coordinator of ADAptive Services to make sure that the individual is using the accommodations. The accommodations are intended to "even the playing field" so that the student is on equal ground with students who do not have a disability. Students are expected to use additional necessary services (Academic Success Labs, Peer Tutoring, Professors' Office Hours, etc.) in addition to accommodations, as necessary. The Office of ADAptive Services is not responsible for academic failure when the individual does not take advantage of the services that are offered or has not requested such services.